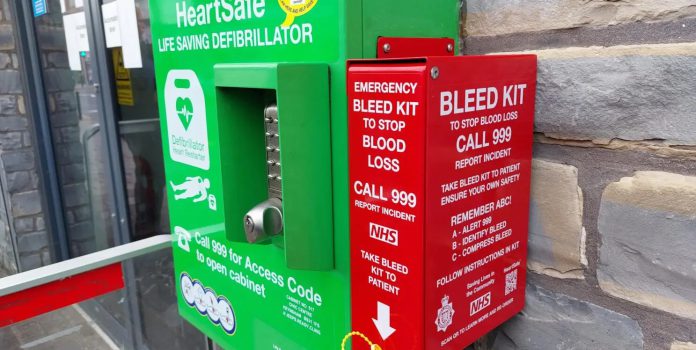 A number of life-saving bleed control kits, designed to control bleeding after someone suffers a traumatic injury, have started to be installed within local communities across Avon and Somerset.
Avon and Somerset Police are working with NHS England South West and HeartSafe to install 144 bleed kits across the force's region, which includes Bristol, Somerset, North Somerset, Bath and North East Somerset, and South Gloucestershire.
The project was first initiated by Clive Setter from HeartSafe, following their successful work in installing public defibrillators across the UK. Clive said: "I am pleased to announce another public safety initiative for HeartSafe, now partnering with Avon and Somerset Police assisting people suffering major blood loss wounds to receive immediate help from members of the community around them.
"The bleed kits will provide some initial emergency aid to those in need before an ambulance arrives at the incident and will help to avoid a potentially tragic outcome."
The kits, which will be installed onto the side of existing HeartSafe defibrillators, will be instantly accessible in an emergency where someone has suffered a traumatic injury.
They include trauma dressings and tourniquets to help manage bleeds as well as nitrile gloves, scissors, and a colour-coded instruction guide on what to use depending on where and what type of injury the person is suffering from.
People should always call 999 and ask for the ambulance service in a life-threatening emergency, but these kits are designed to be easy-to-use in the moments immediately after a medical emergency to help the injured person until an ambulance or first-responder arrives on scene.
Avon and Somerset Police's Knife Crime Lead, Chief Inspector Mike Vass, said: "We know we cannot police our way out of serious violence, it has to be a partnership approach, not just between us and our partners in health and social care, but also with members of our communities who can play a key part in helping us.
"We employ a number of different tactics to deal with knife crime and prevent it at the source but in the unfortunate event that a person is seriously injured, we hope that these kits will go some way to preventing the tragic loss of life we've been seeing in our communities."
Whilst this partnership initiative is part of Avon and Somerset Police's work around serious violence and knife crime, the bleed control kits are there to be used in any incident in which a person is suffering from a catastrophic bleed, whether it be a road traffic collision, fall, or other traumatic injury.
Dr Michael Marsh, NHS England's South West Medical Director, said: "NHS ambulance crews and trauma teams do a great job when confronted with a patient who's losing a lot of blood, but we wanted to go further in those crucial minutes when an ambulance was still on its way. That's why we're so pleased to fund bleed kits, so the police and community partners can get them to the right places to save lives – many of them young."
Councillor Jayne Stansfield, partner lead member for communities and local place at South Gloucestershire Council, said: "We are very pleased to have two of the first bleed kits installed in South Gloucestershire.
"Thankfully crime is low in South Gloucestershire but it is reassuring to know that if someone is seriously injured because of knife crime or some form of serious violence, help is at hand to try to save their life. Of course, the kits can be used for other injuries as well and I thank everyone involved for this extra help in our communities."
The installation compliments work carried out by the police force to tackle knife crime, with over 4,000 weapons being surrendered into knife surrender bins installed across the force to encourage young people to safely discard of their weapons.
Alongside this, workshops have been rolled out across secondary schools in Bristol and South Gloucestershire to encourage young people to report if they know someone is carrying a knife. The Blunt Truth workshops are delivered to students in Year's 8 and 9 and educate students on the dangers of carrying a weapon, and how to administer emergency first-aid in the event of a stabbing. The programme is led in partnership with the NHS and has been delivered to over 2,800 young people since 2021.
Avon and Somerset Police has also provided £4,000 of funding which has gone towards providing local businesses and communities with advanced bleed control kits and training for their staff.
If you are concerned about someone you know carrying a knife, you can report it Avon and Somerset Police by calling 101 or via their online form. If there is the threat of immediate danger, or a crime is taking place, always call 999 immediately.
Alternatively, you can give information 100 per cent anonymously by contacting Fearless, the dedicated youth service of the independent charity Crimestoppers. They cannot track where the information has come from and you will not be contacted by the police. You can send information into Fearless using their online form at www.fearless.org or by calling 0800 555 111.