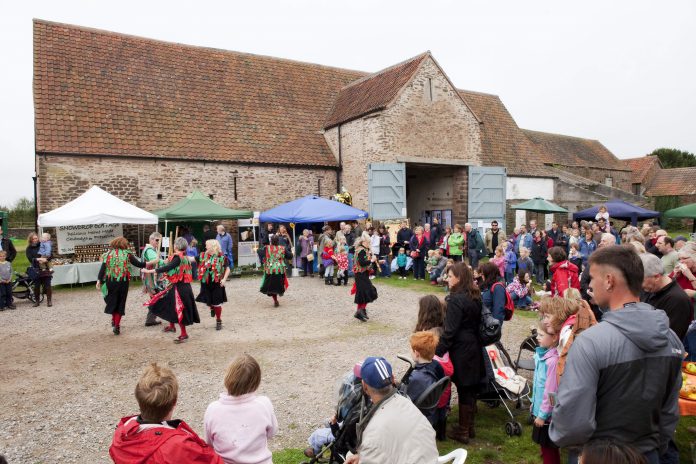 A project to help secure the future of Winterbourne's Medieval Barn has taken a major step forward thanks to a £936,600 grant from the Heritage Lottery Fund (HLF), made possible by money raised by National Lottery players.
We have been working with the Winterbourne Medieval Barn Trust (WMBT) to develop a £1.76 million project that will conserve and refurbish the historic barn and its adjacent buildings.
Once the total is reached, the funding will be used to restore, refurbish and find new uses for the 14th Century Court Farm Barn and associated outbuildings, ensuring its long-term sustainability in the heart of the local community. A heritage education centre will also be created to demonstrate the history of the barn and its architecture as well as information about the local area. Overall, the complex would provide flexible spaces for a variety of community, educational and commercial uses.
The restoration and refurbishment will enable the Trust to offer many more events and activities throughout the year, including heritage and craft-themed events, craft workshops, guided tours, more musical and theatrical performances, and a brand new schools' programme. There will be new rentable workshops for creating traditional crafts and more space will be available for public and commercial hire, income from which will enable the Barn to operate on a sustainable basis.
Cllr Heather Goddard, Cabinet Member responsible for Communities and Tourism, said: "This funding will help secure the future of one of our area's most important sites by creating a multi-purpose rural heritage venue which will interpret and celebrate the history and heritage of this extraordinary building and its environment.
"We are very grateful to the National Lottery for their generous support towards making this possible. We would also like to thank the many other organisations and individuals who have contributed to the project's fundraising cause, and to the volunteers of Winterbourne Medieval Barn Trust, who have worked tirelessly over many years to save the barn for the community."
Sue Parsons Chair of WMBT said: "Winterbourne Medieval Barn Trust is delighted with the funding provided by the National Lottery which will enable us to realise the full potential of this iconic building and enable it to become a true community asset.
"Work is now continuing to raise the remaining money needed to ensure the project is fully funded. Anyone interested in donating to the project or joining the volunteering team should contact us by emailing sue.parsons6@btinternet.com."
Nerys Watts, Head of HLF South West, said: "We're delighted to support this project which is an excellent example of how our historic buildings can be used in new and sustainable ways for the benefit of people, local orgnaisations and communities. Thanks to money raised by National Lottery players, Winterbourne Medieval Barn is on its way to an exciting future with its heritage and community at its heart."
When all of the required funding has been raised, building work is planned to start early in 2019, with the redeveloped site expected to open the following year. Activities and events will be run both at the Barn and in the community whilst the building work is taking place, to enable visitors to continue to learn about the history of the barn and its surrounding environment as well as stay in touch with the project's progress.
For more information visit www.winterbournebarn.org.uk