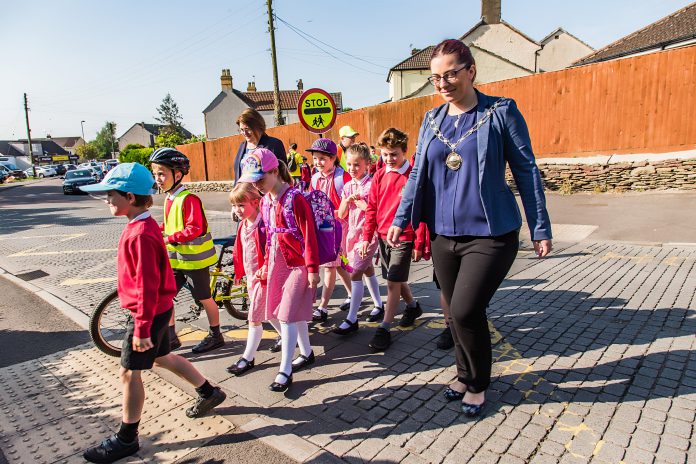 Pupils from Watermore Primary School in Winterbourne joined Chair of South Gloucestershire Council Cllr Rachael Hunt and road safety officers yesterday to celebrate the start of Walk to School Week (21 to 25 May).
Forty two schools in South Gloucestershire are taking part in the national campaign which encourages children to swap four wheels for two feet and walk to school with their parents or carers.
Cllr Hunt said: "Walking to school is a great way for pupils to meet up with friends before arriving at school and to keep active and healthy. Walk to School Week offers a fantastic opportunity to learn and use road safety skills on our shared paths, footpaths and the many different types of crossings available on route, to help keep children safe on their journey to and from school."
Our road safety team have funded packs for schools, produced by walking charity Living Streets, which contain everything each class needs to help all children stay engaged with the weeklong challenge, including:
five day classroom activity-tree
daily tree stickers for pupils who walk
teacher sticker sheet
pupil walking diary
sunflower seeds for pupils to grow in the class or at home
pupil reward stickers
teacher guidance and parent information.
Pupils who walk to school each day add a sticker to the classroom activity-tree, each sticker brings the tree to life across the week, from the roots and trunk to colourful leaves and blossoming flowers. The pupil's diaries help to focus both pupils and parents on the importance and benefits of walking to school.
To find out more about the road safety education team visit www.southglos.gov.uk/roadsafety