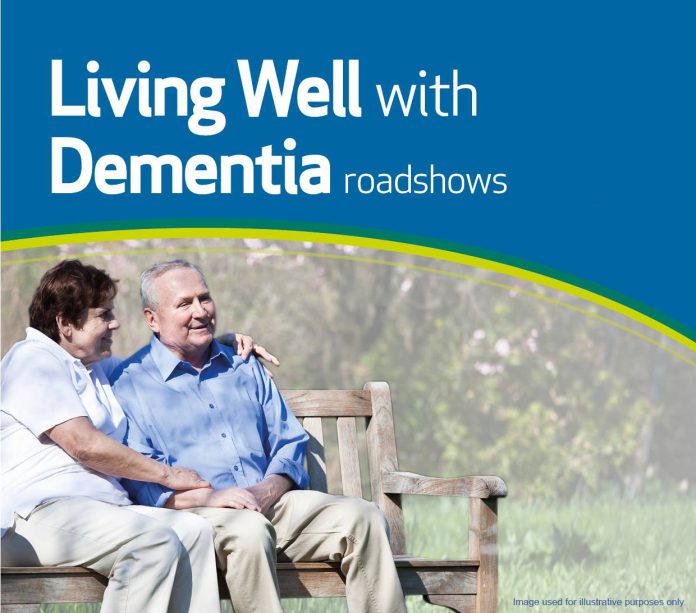 Dementia Action Week (DAW) takes place from 21 to 27 May and there are lots of events and activities taking place across South Gloucestershire.
We have a 'Living Well with Dementia' roadshow in Bradley Stoke on Wednesday 23 May for residents who have recently been diagnosed with dementia and their family, carers and friends. The free event takes place from 6pm until 8.30pm at Apple Room and Cherry Room, Baileys Court Activity Centre, Bradley Stoke, South Gloucestershire, BS32 8BH.
The roadshow will offer practical, emotional and health advice and is intended to provide people with the information they need to understand their diagnosis, find out what support is available to them and learn how to live well with dementia. The event is free to attend, but places should be booked in advance by using one of the following methods:
Book online at www.eventbrite.co.uk/e/bradley-stoke-living-well-with-dementia-roadshow-2018-registration-38403782748
Email cchengagement@southglos.gov.uk
Phone 01454 862356.
Cambrian Green Day Services (our purpose built Dementia Day Centre) in Yate are holding a DAW tea party on Thursday 24 May.
Service Users have been knitting Special Care baby bonnets for Bath Royal United Hospital and have been building bird tables to sell along with other arts and crafts. Cambrian Green Day Services are also extending their intergenerational community links and have connected with St Marys in Yate, a local pre-school.
Other events taking place in South Gloucestershire during the week include:
Alzheimer's Society's Singing for Dementia at Southmead Hospital on Wednesday 23 May.
South Gloucestershire Dementia Action Alliance (SGDAA) and Alzheimer's Society are holding an information and awareness morning at Kings Chase Shopping Centre in Kingswood from 9am to 1pm on Wednesday 23 May to promote dementia and raise awareness of the work of the alliance.
Alzheimer's Society's sing-along afternoon at Avon Valley Railway on Thursday 24 May.
Dementia friendly swimming for Dementia Action Week on Friday 25 May. A new programme of dementia-friendly swimming at Filton Leisure Centre (Dolphin Pool) called Swim Relief has just started and takes place every Friday morning from 11am to 12 midday, followed by refreshments from 12 midday to 1pm.
Kingswood, Staple Hill, Hanham, Emerson Green, Cadbury Heath and Downend libraries are partnering with the SGDAA to promote dementia awareness and the work of the alliance throughout the week.
Cllr Ben Stokes, Cabinet Member for Adult Care in South Gloucestershire, said: "In the UK, one person is diagnosed with dementia every three minutes, of whom many feel helpless and excluded. This year, Dementia Awareness Week has been renamed Dementia Action Week, and we're calling on everyone to take action to improve the everyday lives of people affected by dementia. There are lots of events and activities taking place across South Gloucestershire throughout the week where you can find out about the support and advice that is available in the area."
Beyond Dementia Action Week…
Cambrian Green Day Services' manager and staff are taking part in a sponsored skydive for Alzheimer's Dementia Research Charity on Saturday 30 June, and there is also a fund raising Social evening for family/carers of Service Users on Friday 1 June.
The Care Forum are running a Health Watch Dementia Awareness training session on Wednesday 13 June for staff and volunteers.
We support our social care workforce in South Gloucestershire and we have been working to promote social care as a career through the regional Proud to Care campaign. For more information visit www.proudtocaresouthglos.org.uk
For more information about dementia support in South Gloucestershire visit www.southglos.gov.uk/dementia
For more information about dementia awareness week visit www.alzheimers.org.uk/DAW
or www.alzheimers-brace.org/dementia-awareness-week-2018