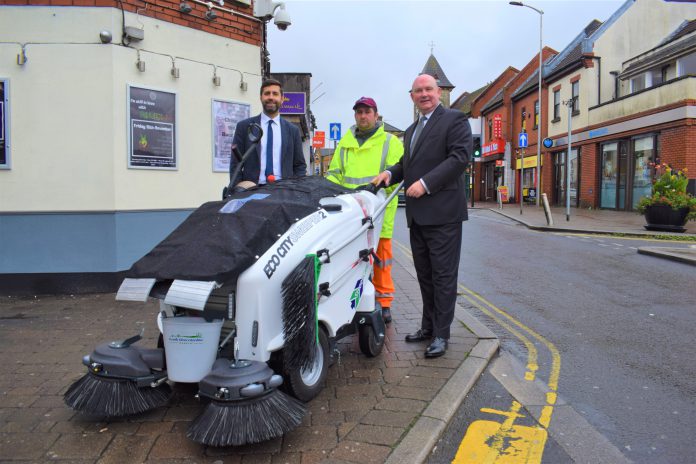 West of England Mayor Tim Bowles joined Leader of South Gloucestershire Council Cllr Toby Savage on Kingswood High Street on 14 October to launch a new environmentally friendly road sweeper for the area.
The compact electric road sweeper has been funded by the Love our High Streets project, and will provide a dedicated cleaning service for Kingswood High Street and surrounding roads, helping to improve the area's appearance. The investment follows a residents' survey last year from which 62 per cent of Kingswood respondents identified litter as a big issue.
The sweeper that previously serviced the area will now be deployed to other high streets in South Gloucestershire such as Thornbury and Chipping Sodbury on rotation.
The new electric sweeper is part of our plan to move to a greener fleet of vehicles, including plug-in electric cars and electric bicycles for staff use, which will help us reduce CO2 emissions and fuel costs.
We are also investing in a number of solar-powered compaction bins for the High Street that utilise energy from the sun to help compress waste, holding up to 10 times more waste than conventional bins and therefore reducing the amount of journeys required to empty them.
In addition, we've been out on the High Street promoting the Low Carbon Challenge Fund Green Business Grants. Green Business Grants are currently available from the West of England Combined Authority (WECA) providing for up to 40 per cent grant funding to support energy efficiency improvements to business premises.
The grants are open to SME businesses right across the West of England. Stage one applications can be submitted up to 1 November, for more information visit https://www.westofengland-ca.gov.uk/green-business-grants/
Cllr Savage said: "It is great to see this sweeper take to the streets and help keep Kingswood clean and presentable as part of our investment in the area. We are committed to lowering our carbon emissions and innovative solutions such as the new sweeper and bins will play an important role in helping us achieve our aims.
"We are already seeing notable improvements on the High Street and we are delighted that Kingswood has been identified as one of 50 locations for the next phase of the Future High Streets Fund. This is obviously a very exciting opportunity to significantly increase the funding for investment in Kingswood High Street and delivery of our Love our High Street objectives."
West of England Mayor Tim Bowles said: "Love our High Streets aims to help revitalise local communities by giving high streets and town centres a real boost, across our region. This first step in Kingswood is a great start and will pave the way for people to take a fresh look at their high street."
The new road sweeper and compaction bins have been funded by the West of England Combined Authority through its Love our High Streets project.
For more information visit www.southglos.gov.uk/loveourhighstreets