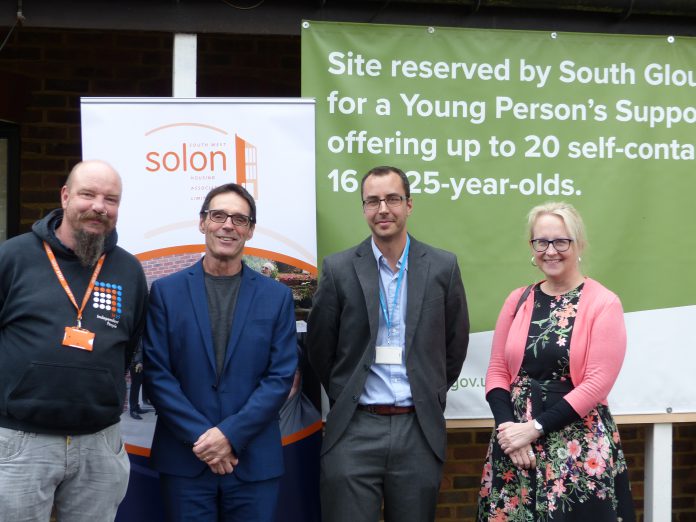 Work is now underway to convert the former aged care home at Woodleaze in Yate into a Young Person's Supported Living Scheme for 16-25 year olds, including care leavers, who need additional support to help equip them for independent living. The new facility, which will provide 18 self-contained units and space for a range of other support services to be delivered on site, is expected to open in May.
South Gloucestershire Council has made the existing building and grounds available to Solon, a locally-based charitable housing association, on a 60-year lease. The Council also helped to secure £126,600 in grant funding and Solon have received £630,000 from Homes England to support the project.
Services to support the young people living at the new Woodleaze facility will be delivered by a range of partners, led by 1625 Independent People, who provide a range of help to young people at risk of homelessness, including teaching life-skills, advice, assistance to access training and job opportunities.
The project will help to meet a need in South Gloucestershire to provide additional support for care leavers, who will make up half of the residents. The other half will come from a range of other backgrounds, including those who are homeless or at risk of homelessness.
It is also anticipated that by putting the surplus building to this new use, the Council will deliver additional value for money for all residents as we will be able to substantially reducing the number of care leavers placed with independent providers often with a high level of 1:1 support. The needs of those young people would be better and more cost effectively met in the new scheme, which meets best practice standards in the provision of accommodation and support for care leavers.
To mark the milestone in the project, representatives from the Council and Solon Housing Association were among those to take a tour of the building and hear about how, with its new lease of life, it will provide a springboard to independent living for vulnerable young people in South Gloucestershire.
The principle behind the project is to help vulnerable young people make the transition to living independently, by giving them the skills and confidence they need. Crucial to the way that the homes and support that will be delivered at Woodleaze has been the involvement of young people themselves.
Cabinet Member for Children and Young People, Councillor Jon Hunt, said: "Our top priority is to improve outcomes for all young people in South Gloucestershire and we know that some of our most vulnerable need an extra helping hand to make the transition to independent living, particularly among our care leavers.
"I am really excited to see this project, which will make such a difference to the lives of young people, reach this important milestone. I look forward to returning in May to welcome them to their new homes.
"Not only will the new Woodleaze provide a better facility to improve our offer to help some of our most vulnerable young people achieve better outcomes, ensuring this is done locally rather than further afield, but it is also highly cost-effective with the saving transferred to the residents across South Gloucestershire."
Paul Ville, Chief Executive of Solon Housing Association, said: "Solon Housing is pleased that funding is now being provided for supported housing and delighted to be delivering this important scheme of much needed stable and secure homes for young people leaving care. We thank the Council and Homes England for their financial support for the scheme and help getting it over the line."