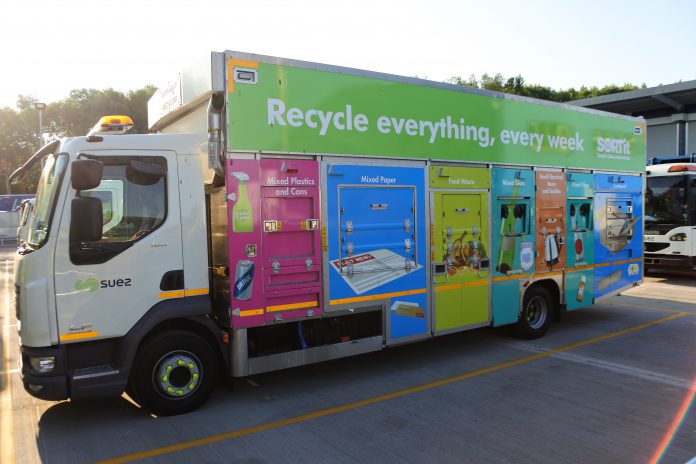 Following an in-depth review and negotiations with SUEZ, who operate waste and recycling vehicles in the area, improved terms have been agreed for the final five years of the PFI (Private Finance Initiative) that governs how kerbside collections are managed in South Gloucestershire.
As part of the ongoing Council Transformation and Savings Programme, we have been exploring the potential to make savings by renegotiating or potentially even withdrawing from the PFI arrangements with SUEZ. The review found that while savings were possible by bringing the service 'in-house', these were largely off-set by the costs associated with early exit from the contract.
By discussing with SUEZ our need to be as efficient as possible, while implementing ever-improved services to residents, reducing litter and further driving up recycling rates, we have reached agreement that means we can reduce our spending on the service in a way that will not impact kerbside collections.
As part of the new arrangements, which will retain the current contract with SUEZ until its end in 2025, the company have agreed to invest to improve the quality of the service, on top of savings of £1m per annum.
SUEZ have agreed to make several changes to improve the quality of the service and value for money including:
Installing CCTV cameras on all waste collection and recycling vehicles to provide better monitoring data, reduce littering and promote improved health and safety. SUEZ will also employ staff to review the footage to resolve any service issues.
Buying additional recycling vehicles, which will improve collection round sizes and ensure that rounds are completed each day.
Using a 70/30 'split-back' vehicle at Christmas and Easter to collect the additional cardboard and mixed plastic and cans put out for collection at these times of year.
Increased frequency of vehicle cleaning to help prevent avoidable equipment failure.
Leader of the Council, Councillor Toby Savage, said: "We recognise that as one of our most high-profile services, used by all residents and our business community, the quality of our waste and recycling services are hugely important.
"We are very pleased that having had constructive discussions with SUEZ over the past year, we have reached an agreement to not only improve the collection service, but also to achieve savings to our budgets and better value for money, this is a win for all.
"The collection crews work extremely hard, in all weathers. Their commitment, along with SUEZ and our achievements together with the public in driving up recycling rates and reducing the amount of waste that goes to landfill, means we have a service that we can all be proud of. We can always do more, which is why we are working hard to update our Waste Strategy for the coming years, but the new vehicles and CCTV cameras to be installed will give us all increased confidence that we will achieve our objectives and ensure that South Gloucestershire remains a great place to live and work."