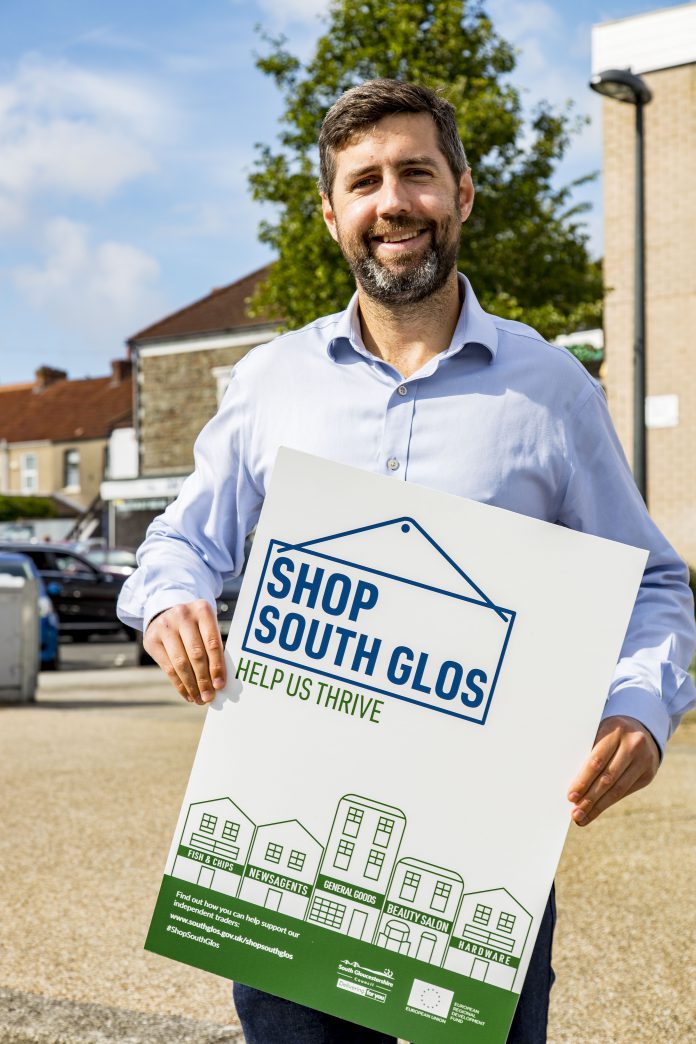 Local traders and South Gloucestershire Council have joined forces on a new campaign to encourage people to stay safe, shop local and support high streets to rebuild from the coronavirus pandemic.
'Help Us Thrive: Shop South Glos' showcases the best of what our high streets across the area have to offer; from combining a visit to the local park with buying a gift from an independent shop; to experiencing a historical attraction and popping into a florist. And all this is possible in safety in South Gloucestershire as traders have invested in measures such as plastic partitions and free facemasks to ensure customers and staff are safe while they shop. Videos featuring the local traders, a social media campaign and special offers and competitions will encourage people to play a part in preserving the heart of their communities.
The roll out of the campaign is beginning with Hanham, Staple Hill and Thornbury High Streets.
Councillor Toby Savage, Leader of South Gloucestershire Council, said: "For the last few months, communities across our area have acted responsibly and conscientiously to limit the spread of the COVID-19. We now ask for your support again. These are incredibly challenging times for businesses who have done a brilliant job to welcome shoppers back safely.
"Supporting high streets like Hanham, Staple Hill and Thornbury, will help to save jobs while customers can experience a huge range of choice and unique products. Local grocers, cafes, barbers, gift shops, beauty parlours, florists, pubs, and newsagents, to name but a few, all sustain a healthy economy in South Gloucestershire. Now is the time for residents to get back out onto our high streets, to do their bit and help our community-based businesses thrive."
Outdoor measures have also been taken to make the area's high streets as safe as possible and provide reassurance for shoppers. These include creating more space for social distancing on pavements and roads and relaxing licensing regulations to make it easier for pubs, cafés and restaurants to install outside seating areas.
George Georgiou, owner of the Butcher's Hook, Staple Hill, says: "We're encouraging people to come back to the high street safely and support the local economy. We've worked hard to keep people safe and our customers are being really supportive."
"Tabi Marsh, the owner of Papilio at Heritage, a gift and coffee shop in Thornbury, said: "While introducing safety measures in Thornbury's stores, we always explore ways to make our high street different for a better shopping experience. For example, we're becoming a Makaton-friendly town with team members from stores learning basic signs and symbols to be as welcoming to everyone as possible."
Matt Knight, who owns John Woods Cycle Repair Centre, Hanham, said: "We've got a great range of shops, easily accessible by public transport or, of course, bicycle. The mix of eateries, gift shops, hairdressers and local facilities, like Hanham Library, offers a different experience on every visit. Our high street is the centre of the community and putting your money back into the community is important."
Find out more about your high street
Discover how to support South Gloucestershire's local traders to thrive and meet some of the traders that make the high streets tick at www.southglos.gov.uk/shopsouthglos
The Help Us Thrive: Shop South Glos campaign is funded through the government's 'Reopening High Streets Safely' fund.
Individual YouTube links:
Staple Hill: https://youtu.be/0b9BGBOkaSY
Hanham: https://youtu.be/8M-b4Ffa3_M
Thornbury: https://youtu.be/f4diaEAqJkI
Follow the campaign on social media #ShopSouthGlos