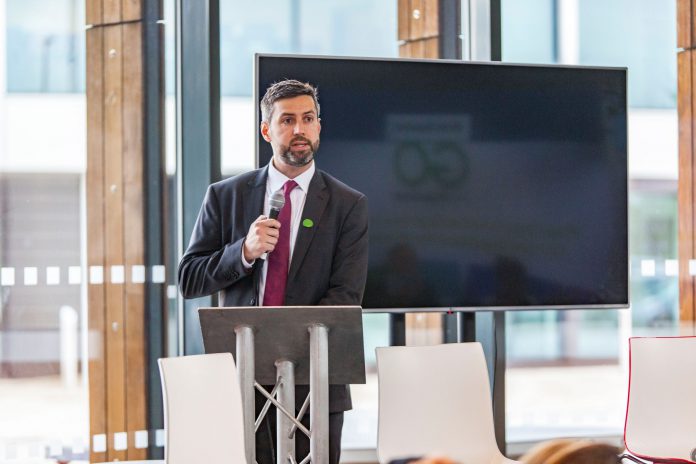 The South Gloucestershire Business Show was held at the Bristol and Bath Science Park this week (19 and 20 October). Hosted by the Council, leaders from locally-based companies large and small as well as the university sector came together to discuss practical steps to meet the challenges of the future and to showcase the measures they are already putting in place to manage finance and international trade as well as mental health matters and equalities.
As a council that has declared a Climate Emergency and, in the run-up to the global climate conference, COP26, we also wanted to provide our business community with the opportunity to talk about the climate and how they can play their part in our greener future.
The industrial and commercial sector accounts for a third of the carbon emissions in South Gloucestershire and the opportunity to contribute to significantly reducing this is once-in-a-generation challenge. A key question that formed the basis of discussions was how both private and public sectors can accelerate the transition to net zero carbon emissions by 2030.
We wanted to explore the amazing transformations underway in some of our key industries, so we held discussions on:
Decarbonising Aerospace and Aviation, with presentations about electric light planes, sustainable aviation fuels and applications for hydrogen as a fuel source from Airbus, Rolls Royce, CFMS, Bristol Airport, West of England Aerospace Forum, the National Composite Centre and Atkins Global.
Decarbonising Food and Drink. which focused on reducing carbon in supply chains, new models for food growing, developing a regional food strategy, regenerative agriculture, land availability and sustainability in convenience food. Presentations came from Net Zero Now, Wild Hare Group, Sims Hill Shared Harvest, Equilibrium Markets Ltd and the Urban Agriculture Consortium.
Decarbonising Transport, with First Bus, Institute for Advanced Automotive Propulsion Systems, Sustrans, ALD Automotive, North Bristol SusCom, Atkins Global and the Chartered Institute for Logistics and Transport. Representatives discussed how to create a culture change in travel to encourage walking and cycling, reducing car ownership and mileage, vehicle leasing and getting people back onto public transport, as well as the increased impact of click and collect services on carbon emissions.
Business and Nature, with speakers from the Avon Wildlife Trust, Hobbs House Bakery, Bristol Chamber of Commerce, University of the West of England, Sustain You and The Sustainability Storyteller. The discussion focussed on how businesses can have a positive impact on nature through their supply chains and procurement and what support businesses will need to achieve this.
We also heard from Simone Hindmarch MD and co-founder of Commercial Group Ltd who spoke about joining the Race to Zero campaign and how her 'net zero' carbon journey supports the recruitment and retention of the highest quality staff who are committed to the company's ethics and vision.
South Gloucestershire Council Leader, Councillor Toby Savage, who has responsibility for policies to meet the Climate Emergency challenge, opened and spoke at the conference. He said: "Businesses in South Gloucestershire face any number of challenges as we look to the future, but none are more important than our response to the Climate Emergency.
"That is why we dedicated a particular focus at this year's show to how we can effectively work together to become more resilient, adapt the ways we work and reduce our collective carbon emissions across South Gloucestershire. How we respond now is a once-in-a-generation challenge, but also a once-in-a-generation opportunity.
"It is essential that we work together, at all levels, to make changes that will be effective at reducing our impact on the environment and to protect nature. As large organisations, small or medium enterprises and individuals we can all make a difference.
"Speaking about the challenges, discussing solutions and sharing experience of what is already helping, is the key to collaboration and genuine progress to becoming carbon neutral by 2030.
"The sessions were a valuable and inspirational insight into how all businesses and industries, large and small, have a role to play in reducing emissions and protecting the planet. The opportunities to transform our economy to respond to this crisis is huge and our area, at the forefront of innovation in sectors such as aerospace, has so much potential to make a significant contribution.
"For many, the starting point is to measure emissions and set a target for reducing them as soon as possible, focusing on 'easy wins' to get some momentum. A healthy natural world is fundamental to a healthy economy and businesses must consider their impact and how they can positively support nature as well as reducing their carbon emissions.
"I look forward to taking these conversations and actions forward with Business West and the business community at large in the coming year."