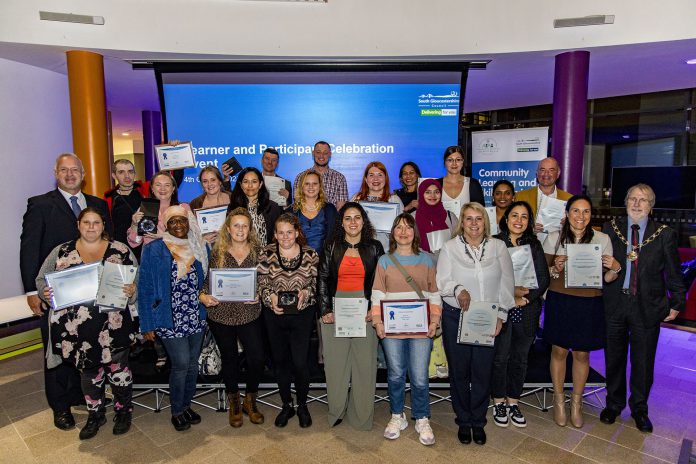 Inspirational adult learners from South Gloucestershire have been celebrated at a special event to recognise their hard work, perseverance and growth in confidence.
The annual celebration was for local residents who have taken part in the council's Community Learning and Skills Service, which received a Good rating from Ofsted in July this year, and offers courses and career progression programmes. It was a great opportunity to celebrate the commitment and success of participants who have achieved so much over the last year.
Councillor Ian Boulton, Co-Leader of South Gloucestershire Council and Cabinet Member for Education, Skills, Employment and Business welcomed over 100 learners and their families to the event at the Bristol and Bath Science Park.
Councillor Boulton said: "Community Learning can provide a real lifeline for those who take part. I know from personal experience that accessing learning opportunities as an adult opens possibilities that would otherwise have been closed to me.
"I congratulate all the learners on their inspiring achievements and journeys: overcoming adversity, learning new skills, taking up new opportunities, developing resilience and growing in confidence through raised aspirations. I wish them every success on their ongoing learning and employment journey."
In the past year the Community Learning and Skills Service has supported and given opportunities to over 1200 local people. A range of courses are on offer for people wanting to develop confidence and personal skills; those preparing for employment; programmes for speakers of English as a second language; English, maths and a wide range of other topics. The service has also supported a further 850 people with information, advice and guidance through its employability programmes.
Chair of South Gloucestershire Council, Councillor Mike Drew, presented awards and certificates including Learner of the Year, awarded to a learner who has shown extraordinary commitment and dedication to learning no matter what they may be facing. Significant Achievement, Resilience and Hidden Hero awards were also presented.
Councillor Drew said: "Our Community Learning and Skills Service exists to help people overcome barriers, stretch minds, build resilience and skills for today and tomorrow. The celebratory evening recognised all those things in our learners who have taken on new challenges. The benefits and positive impact not only for them, but also their wider family and communities is a joy to see."
Learner of the Year 2023, Sarah Heath, took part in health and wellbeing courses and said she has thrived as a result. She now works as a volunteer on the Page Park allotment area in Staple Hill and says she has new-found self-confidence and belief in herself. Her experience has encouraged her son to take part in a gardening course.
Sarah said: "I have improved my social skills and confidence in meeting other people I would not normally interact with. I am going to take up Maths and English again so I can take my exams.
"I would like to say to the people who are thinking of enrolling, just give it a go even if you don't think you can do it. Stick at it!"
For more information and to find out about the courses and career progression programmes offered visit www.southglos.gov.uk/communitylearning