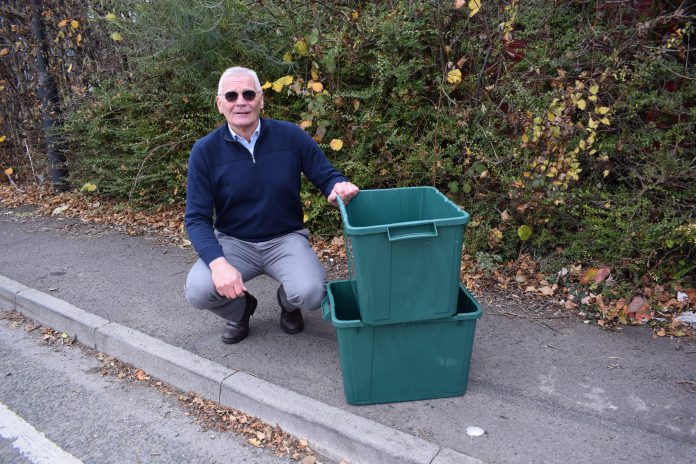 Recycling in South Gloucestershire is set to become even more environmentally friendly following a decision taken by the council to replace the green and white bags for residents use for their recycling. Instead, additional green recycling boxes will be provided when bags need to be replaced.
The decision was made following a 12-week public consultation. Replacing the bags with boxes will further improve our environmental performance and follows the successful implementation of our council Waste Strategy, which has already seen an increase to weekly kerbside recycling collections and the introduction of smaller general waste bins, both measures which are helping to drive down the amount of waste sent to landfill and significantly increase the amount of material recycled.
The key focus of the proposal to replace the bags over time is to reduce the environmental impact of collections. The current bags are not themselves recyclable and as they deteriorate over time they release plastic fragments into the environment. Furthermore, they are manufactured overseas and have to be shipped to the UK. Therefore, in the interests of reducing plastic waste, improving sustainability and protecting our environment, it was proposed to discontinue use of the bags.
The green recycling boxes are also made from recycled plastic; they are much sturdier, which means they do not fragment and when damaged beyond use they can be recycled again with rigid/hard plastics. The boxes are also safer and easier for our collection crews to use because they can be hooked onto the side of collection vehicle to be emptied.
In addition, the bags have to be replaced more regularly than boxes as they deteriorate and blow away, so there are also potential cost savings for the council of around £100,000 per year.
Some residents already use boxes for all their recycling. However, those using the green and white bags alongside the green box can continue to do so. We will continue to provide the bags until the existing stock runs out. From that point, green boxes will be delivered to replace damaged or missing bags when requested by residents.
We recognise that some residents may have difficulty in moving boxes to the kerbside for collection. We already provide an assisted collection for those households where no resident is able to take their containers to the kerbside and this service is also available for those who need help putting out their boxes.
Cabinet Member for Communities and Tourism, Councillor Paul Hughes, said: "We all want to do our part to help preserve and protect our environment and so it makes sense to make our efforts to reduce, reuse and recycle as clean and as green as they can be.
"Moving to more environmentally sound boxes for recycling makes sense for the places we live, for the crews who collect our waste and potentially saves the council significant funds.
"Our success in delivering on our Waste Strategy – driving down waste sent to landfill and driving up the amounts we can divert to recycling – has always been a joint venture between the council and the community. I am sure that this will be just the latest and not the last time that we work together to keep South Gloucestershire clean and green."
Residents are still asked to sort their recycling and group items together in the green boxes. Our collection system is based on households using green boxes and a food waste bin, if you need extra green boxes for your recycling you can order them free of charge at www.southglos.gov.uk/sortit or pick them up from our One Stop Shops and Sort It recycling centres.
Since the implementation of the council's Waste Strategy 2015-2019, which saw the change to weekly recycling and smaller black bins, South Gloucestershire now recycles 51.6 per cent of all household waste. We have collected an extra 4,495 tonnes of recycling since January 2018, thanks to the efforts of our residents to recycle more.