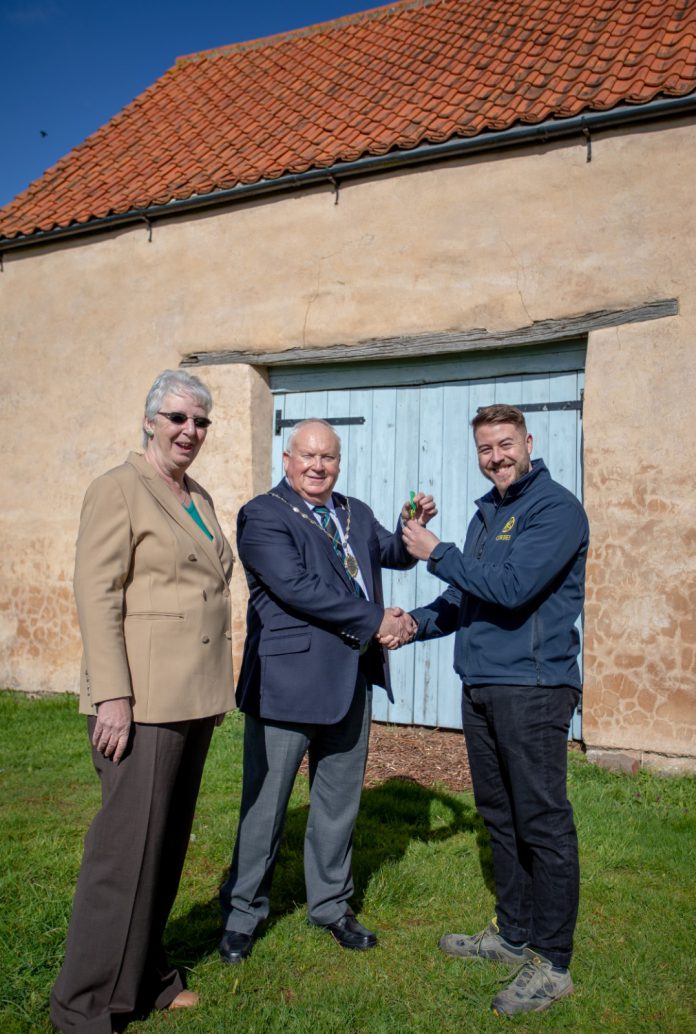 South Gloucestershire Council and the Winterbourne Medieval Barn Trust are pleased to announce that work to conserve, redevelop and find new uses for the magnificent Grade II* listed 14th century Winterbourne Medieval Barn (Court Farm Barn) will begin on Monday 18 March.
This work is part of our £1.7 million project to transform the Winterbourne Medieval Barn site into a heritage hub for the local community, and is supported by an award from The National Lottery Heritage Fund of £936,600.
The work is anticipated to last until March 2020. During this time, conservation work will be carried out on the main barn to preserve the timbers (which date back to 1342) and supporting infrastructure for years to come. There will also be work carried out on its two ranges – the South Barn, and the dilapidated West Barn which will see the installation of new facilities including a kitchen, office, and historical interpretation gallery, celebrating the history and heritage of the site and its environment.
The existing Victorian Cow Byres will be transformed and brought back into use for local micro-businesses. Once completed, the units will be let to small ventures including artisan trades.
Vice-Chair of South Gloucestershire Council Cllr Brian Allinson said: "It's fantastic to see this project progress and the conservation and development work begin of one of our area's most important heritage sites. These improved facilities will ensure the long-term sustainability of this nationally-significant heritage asset by placing it at the heart of the community.
"The barn and associated buildings will be used for a multitude of purposes, including education, leisure and business opportunities providing a valuable resource for the people of South Gloucestershire for years to come."
Chair of Winterbourne Medieval Barn Trust, Sue Parsons, said: "Winterbourne Medieval Barn Trust are thrilled that work is about to start and it marks the culmination of many years effort by the Trust and the local community. We are also looking forward to the site reopening next year with new and exciting events and activities in the enhanced facilities. In the interim we will be holding events in the Cart Shed on site – details available on the website."
Access to the site is restricted throughout the year but members of the public will be able to participate in 'Hard Hat Days' during significant parts of the works programme.
The Cartshed, which opened after renovation in May 2018 will remain open to the public for use throughout the year for various events, lectures, and workshops. Details of all public events will be posted on the Winterbourne Medieval Barn Trust's website.
For more information and event details visit www.winterbournebarn.org.uk