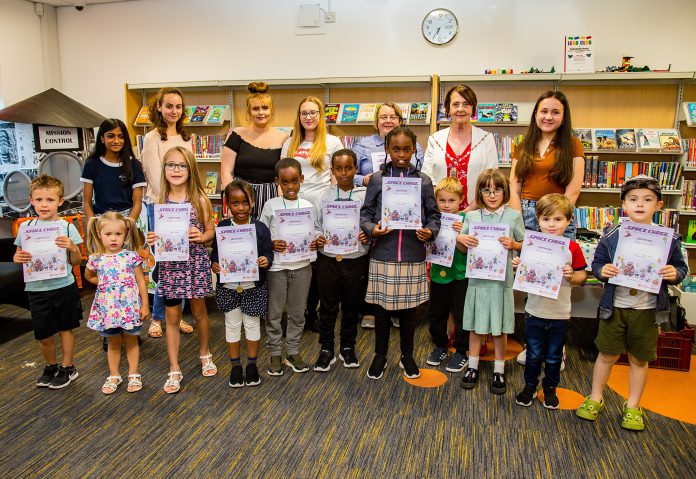 Over 5000 children from across South Gloucestershire have participated in the 20th annual Summer Reading Challenge, which was held this summer.
To celebrate the successful completion of the 2019 challenge, local children gathered at Kingswood Library last week and were presented with medals and certificates for reading six books through the summer months.
The national event was delivered by South Gloucestershire Council's libraries service with the theme of this year's challenge being 'Space Chase', which was inspired by the 50th anniversary of the first moon landings.
Vice Chair of South Gloucestershire Council, Cllr June Bamford attended the ceremony to present medals and certificates to the children and volunteers. She said: "I'm really pleased to have had the opportunity to present the children and volunteers with their medals and certificates this evening. The Summer Reading Challenge is a fantastic scheme which inspires children to read for pleasure, as well as developing their reading skills and confidence so that they return to school ready to learn.
"It's fantastic to see the children and their families so enthusiastic about reading. Thank you to the library service, the volunteers and all of the families who have taken part for helping to make this year's Challenge such a success."
Children signed-up for the Challenge at their local library where they were presented with a folder to keep a record of their Summer Reading Challenge journey.
Callum Boulton was one of the children to complete this year's Challenge, he said: "I enjoyed reading books, joining in the activities, face painting and I enjoyed the lunches at the library and met some new friends."
Parent, Gemma North, said: "It was my son's first time completing the Summer Reading Challenge, which he thoroughly enjoyed. As a parent I saw how it improved his reading ability. We will definitely participate again next year!"
Summer Reading Challenge volunteers were on hand throughout the summer to provide support with activities and to encourage the children to talk about their books. To recognise their contribution, volunteers were also awarded with certificates.
Amy Ferris was one of the volunteers involved this year, she said: "'I enjoyed being a volunteer because it allowed me to help children with the Reading Challenge and other craft activities."
A range of free programmes, events and activities have been held for families over the summer as part of the Summer Reading Challenge, including Fizz Pop Science workshops, Lego Mindstorm Mars Rover Challenge (with Aerospace Bristol museum) and Space Chase craft activities.
Visit www.southglos.gov.uk/childrenslibrary to find out more about this year's Summer Reading Challenge and library services for children, young people and families.
Children can find new books to read, win prizes and share recommendations with other readers on the safe, child-friendly and moderated, Summer Reading Challenge website www.summerreadingchallenge.org.uk