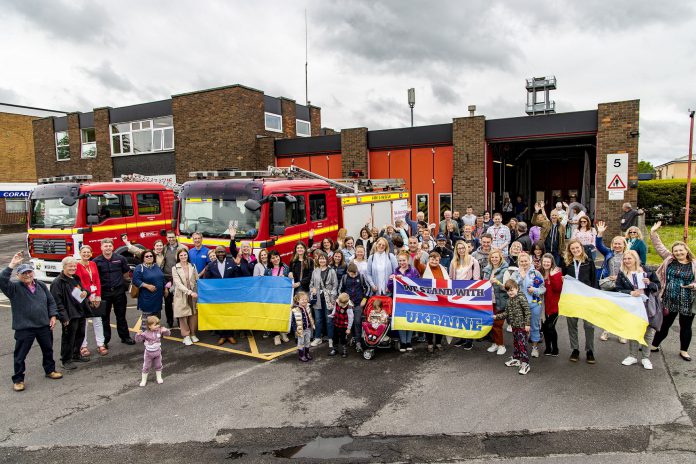 Ukrainian refugees who have moved to South Gloucestershire are already finding their feet and looking to build a future for themselves and their families through work, thanks to the generosity of their hosts, the council, as well as Government and other partners.
South Gloucestershire Council has been working with the lead support provider for people who have arrived under the Homes for Ukraine programme, Julian House, and others, as well as the Department of Work and Pensions (DWP) through JobCentre Plus and the families who have taken in refugees, to help them find work and training opportunities.
A number of Ukrainians have already found work with the council, while others have begun working with other employers in the district, following a welcome event for recent arrivals hosted by the council at the Yate Fire Station in May.
At that event, aimed at helping Ukrainian guests find out more about life in South Gloucestershire, to highlight the support available to them and their sponsors and to help introduce them to others in a similar situation, was Katya.
As Katya understands English, Ukrainian and Russian, she was asked and agreed to act as an interpreter, translating information for those who spoke little English.
Mark Pullin, who heads up the council's Homes for Ukraine work, was immediately impressed. He said: "Having only just arrived from another country, Katya stepped in at late notice, stood up in front of over 100 people and did a fantastic job live translating the presentations.
"I spoke to her after the event and asked her what job she wanted to do. She said this was probably the first and last time she wanted to do interpreting work, but she was really interested in technology and wanted to pursue a career in IT."
Katya kept in touch with the council and when a role in the IT department came up, she applied. She said: "The Digital Trainee role sounded perfect to me. The people I'd met at the Council were very friendly, so I had a good feel about the organisation and I could see how the job offered me an opportunity to learn new skills whilst helping local people."
And Andrew Jones, who heads up the team in which Katya works in at the Council, is confident she'll make a big contribution. He said: "Katya really impressed me at interview with her positivity, her can-do attitude and her enthusiasm to learn. Then on her first day in the job, as soon as we'd sorted her out with her computer, she wanted to get going straight away and was immediately asking us what projects she could get involved with.
And what about the future? Katya is very happy with her new job and is keen to build her technical skills and put them to good use for the council, but she also has big ambitions for the future.
"My dream job would be to work for GCHQ – I'm sure my language skills combined with IT expertise would be very useful for them. However, I need to wait a little while and get full UK residency before I can apply.
"For now though, I'm just really happy in the UK. I am really pleased to be able to work for the local community and to pay back the kindness that people have shown to me and others who have come here. Thinking back just a few months and hearing stories from friends and family who have stayed behind, I couldn't imagine I'd be in this position, with a safe and comfortable home, a great job and looking forward to building a life here."
South Gloucestershire Council Cabinet Member for Equality of Opportunity, Cllr Franklin Owusu-Antwi, said: "It was brilliant to meet Katya at the event to welcome our Ukrainian guests and I am so pleased to hear that she has now gone on to secure a full time job with the council.
"The council, the government and our partners in the community are working hard to support those people who have arrived here fleeing the war. The hosts and sponsors who have welcomed Ukrainian people into their homes showcase the best of us and I am so encouraged to hear stories about the ways people who are in a position to help are doing their bit."
Other Ukrainian arrivals have also found work in South Gloucestershire, which is helping them to settle, find stability and to contribute to the communities that have welcomed them.
Dmytro* got job less than a week after he arrived with his wife, Oksana*. He was a farmer in Ukraine, and was lucky to be allocated to a family that lives in the countryside, surrounded by fields. Their host has been very supportive and proactive and the day after they arrived, she contacted the farm next door.
Having heard about Dmytro's experience of farming, an interview was arranged and, helped by his already good English, he got the job straight away. He says he is enjoying the work, connecting with his new colleagues and being close to his new home.
Oksana, meanwhile, found a connection with her host as they have both worked as seamstresses. The host quickly helped Oksana establish a small business in the village, working from home doing sewing alterations and repairs. She is also now regularly working with two shops in the area, helping to sew wedding dresses. In Ukraine, Oksana worked in quality control in a wedding dress company and so has been able to use her skills and talents to be an immediate success with employers and clients alike.
There are 275 Ukrainians now living in South Gloucestershire and there is a range of support being provided to help them settle, to find work and to learn or improve their English language skills.
Ukrainian guests have also been invited to join the JobCentre Plus Suited Booted Recruited! course to support them into employment. The course focuses on employability, including what skills employers want, teamwork and confidence-building, job applications, mock interviews and support with learning English. Those completing the course receive a £50 voucher for job interview clothes.
Council help includes coordinating a number of community agencies working directly with Ukrainian guests, as well as supporting those who need help with transport to get to work, training or skills opportunities via Wheels to Work West, which is providing free bikes to help people get around.
A job club also runs every Monday afternoon at the Our Place Community Flat in Staple Hill with support from South Gloucestershire Council. The job club can help people develop their CV and assist with job searches, application forms and interview techniques.
* Some names have been changed to protect individuals' privacy.