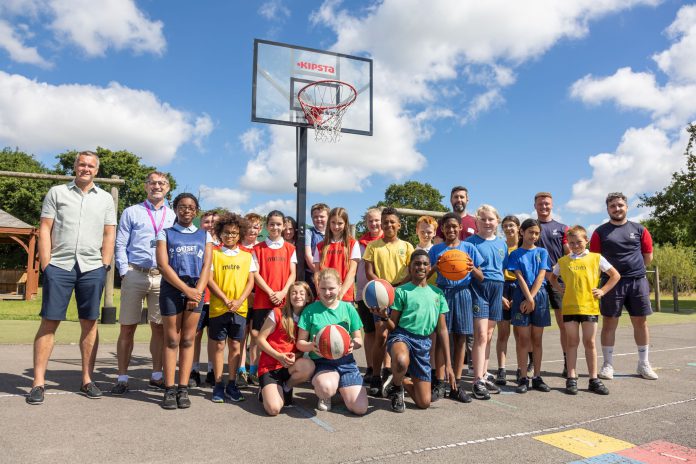 Hundreds of children from across South Gloucestershire have learned the value of physical and mental health in school this year thanks to a partnership between South Gloucestershire Council and the Bristol Sport Foundation (BSF).
With physical exercise and mental health and wellbeing being so closely connected, the council teamed up with the Foundation, the charity wing of the organisation behind Bristol Bears Rugby, Bristol City FC and Bristol Flyers Basketball, to deliver educational sports sessions helping local children bounce back from the pandemic when opportunities for children to take part in physical exercise were more limited.
As part of this year's Budget, the Council pledged £20,000 from the Recovery and Innovation Fund, with BSF match-funding this, in partnership with St. James's Place Charitable Foundation, to bring extra sessions into disadvantaged schools, which emphasise the importance of health and wellbeing and encourage all children to participate.
Over the past year this has seen more than 1,000 children from primary schools across South Gloucestershire get involved with the sessions, designed to increase physical activity levels, alongside other attitudinal, behavioural and educational change.
The Leader of the Council, Councillor Toby Savage, visited Coniston Primary School to see the work in action and how the programme complimented both the PE and recovery curriculum, and how it is leading to children from all backgrounds and at all ability levels growing in confidence and competence, helping them also achieving more in lessons outside sport.
He saw coaches from BSF working alongside staff from the school, running a fun and inclusive basketball session, in which all the children played a full part.
The Recovery and Innovation Fund has supported a range of priorities to support children who have been affected by the restrictions caused by Covid-19, from transition between primary and secondary levels, to academic support and significant social, emotional, mental health and well-being development, as well as physical development.
Councillor Savage said: "We have been delighted to see the Bristol Sport Foundation bring in a really practical programme that has engaged so many students in our Primary schools. The Recovery and Innovation Fund was designed to do exactly this: To help schools and our partners to help our children through the impacts of the pandemic and to identify and support creative ways to get them back on track to unlocking their potential.
"We know that physical development helps children maintain good mental health and wellbeing and these sessions are successful in encouraging pupils of all abilities to take part, growing in confidence, which they can take into other lessons and in life.
"We hope the programme continues to inspire our students to participate in other opportunities, such as the government funded Holidays Activities and Food programme which takes place throughout the summer."
Chief Community Officer at Bristol Sport Foundation, Ben Breeze, said: "We are delighted to work closely in partnership with South Gloucestershire Council, St. James's Place Charitable Foundation and Primary Schools in the region to support young people make positive and informed life choices.
"We give young people a passion for sport and physical activity and equip them with practical ways to improve their physical and mental health through the Health Squad programme."
Martina Nertney, Grants Manager at St. James's Place Charitable Foundation, said: "We are delighted to contribute to the funding of the Health Squad programme supporting young people in Bristol to attain positive physical and mental health which will have life-long impact.
The Headteacher at Coniston Primary School, Alan Walters, said: "The way the Bristol Sports Foundation coaches engage the children and the staff through fun, inclusive lessons and help them develop their core skills has completely transformed school sport at Coniston.
"Children of all abilities make progress and to see some of our most vulnerable children leading from the front is credit to the way lessons are delivered. The coaches are excellent and the culture they create has spread to other areas of our curriculum. The impact has been huge."