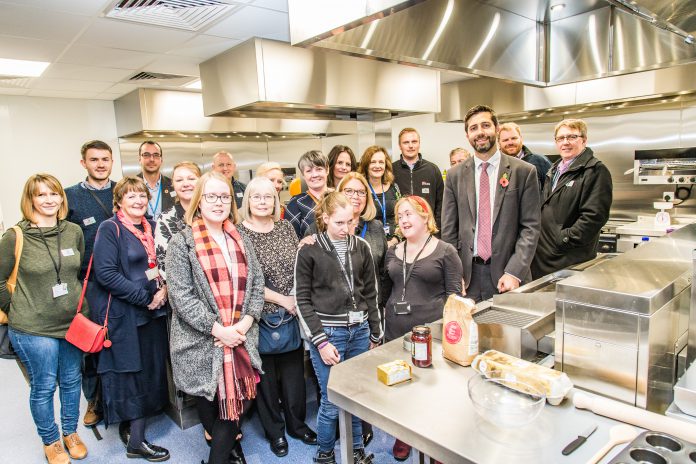 A new South Gloucestershire Council-funded training and teaching campus for young adults with learning disabilities has been officially opened by Council Leader Cllr Toby Savage.
The first term started at The Chase, in Stroud, this September and offers placements for up to 25 students from South Gloucestershire.
It provides post 16 youngsters, up to the age of 25-years-old, with SEND (Special Educational Needs and Disabilities) the opportunity to develop and study independent living, employment and enterprise skills across different industries, including catering and hospitality.
The council provided £540,000 funding for the project, which is run in partnership with South Gloucestershire and Stroud (SGS) College.
Cllr Savage, who is also Cabinet Member for Schools, Skills and Employment, had a tour of the campus building, which was converted and installed with professional grade kitchen facilities.
He said: "The Chase is a fantastic place and it was a pleasure to visit. It will provide the perfect platform for the students to achieve their long term ambitions.
"Education is this council's number one priority and we made this significant investment to ensure our young adults with learning disabilities have the opportunity to access a service which provides a clear educational pathway and employment skills in preparation for adulthood. This provision is also providing a top-class local alternative to high cost residential placements."
South Gloucestershire students in the first intake have settled in well and been explaining the benefits.
Lauren Brickwood, said: "It's been great at the Chase and I like coming to college. I like art, ICT and cooking and the teachers are nice."
Isobel King, said: "I enjoy coming to The Chase. I have made some new friends and my favourite lessons are maths, art and cooking."
Jamie Bennell, said: "The Chase is exciting because I learn new things. I like learning about 'service with a smile' in hospitality. I like all of my lessons. My favourite is music."
Chantelle Toogood, said: "I came to The Chase to learn about cooking. I always enjoy every day. The teachers are friendly and helpful and we always have fun."
SGS College Principal, Sara-Jane Watkins, said: "SGS College is delighted to partner with South Gloucestershire Council to offer such an exciting, new opportunity to young people requiring high-needs support.
"The Chase will provide those who have a passion for learning catering, hospitality and enterprise with an inclusive curriculum and the emotional and personal support needed to enable them to achieve qualifications and progress into pathways that are tailored to their individual needs."