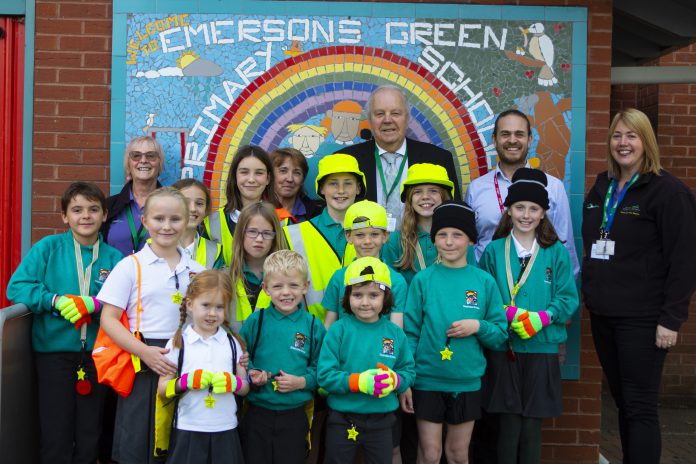 With the days shortening as we move towards winter, South Gloucestershire Council's road safety team are taking the opportunity to remind people to 'Be Bright Be Seen'.
The darker months see an increase in accidents and our road safety officers have been working across South Gloucestershire to raise the awareness of cycle safety to cyclists, drivers and pedestrians.
As part of this, the team has been visiting primary schools to present their annual Be Bright Be Seen assemblies to pupils where they highlight the importance of being visible to others when out walking or travelling on our roads.
Road safety officers have been promoting the campaign during our school cycle training sessions, have been giving away free bicycle lights to secondary school pupils, and pre-school resource boxes will feature 'Be Bright Be Seen' messages over the winter months.
This year officers have visited 64 local schools and a total of 16,276 children have taken part in the assemblies.
We will also be working alongside the Driver and Vehicle Standards Agency (DVSA) to check the lights of vehicles on our roads, and our older driver event* on 12 November will feature Be Bright Be Seen reminders.
In addition, the road safety team will be engaging with the community over two days at town centres in South Gloucestershire where they will be giving away bicycle lights and high visibility shopping bags. Officers will also be visiting the Bristol to Bath Railway Path, where they will be distributing high visibility rucksack covers and bicycle lights.
Cabinet Member for Planning and Transport Cllr Colin Hunt said: "South Gloucestershire's roads are amongst the safest in the country, and by being bright and being seen on dark mornings and early evenings, this will help us keep it that way. During the autumn and winter months the colder weather starts to affect conditions on our roads so we have compiled a few tips to help you stay safe.
"Always make sure you can easily be seen by other road users before you set off on your journey. Pedestrians are advised to wear clothing and accessories incorporating reflective and fluorescent materials at dawn and dusk, in the evening, and in rainy or foggy conditions.
"Cyclists should plan ahead for when the weather freezes and to always use lights after dark or when visibility is poor. Wear light coloured or reflective clothing during the day and reflective clothing and/or accessories in the dark to increase your visibility.
"With regards to motorists, drivers are advised to clear snow and ice from all windows and mirrors before setting off to ensure good visibility. It will take you 10 times longer to stop in ice and slush than on a dry road, so in those conditions slow down, manoeuvre gently and avoid sudden braking or acceleration. Tyres should have plenty of tread and be at the right pressure and check that your brakes and lights are working correctly.
"Motorcyclists need to make sure that their tyres, brakes and lights are in good working order. Tyres should be inflated to the correct pressure and have plenty of tread. Letting your hands freeze will make using the controls difficult, and dangerous, so think about investing is a good quality pair of winter gloves."
Emersons Green Primary School Pupil Jack, aged 10, said: "The brightly coloured gloves were a great idea to wear this time of year as the colours were very noticeable every time I move my hands."
For more information about South Gloucestershire's road safety team visit www.southglos.gov.uk/roadsafety