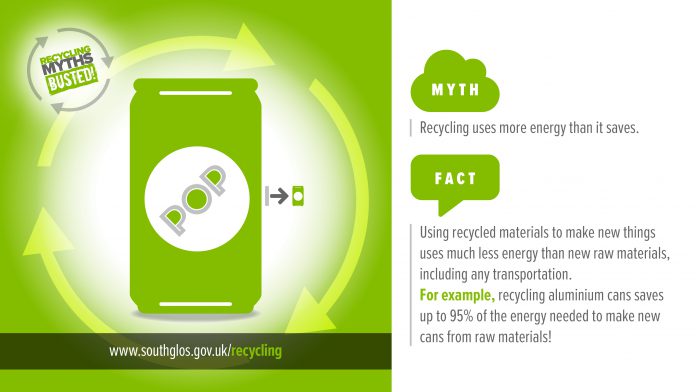 We are encouraging South Gloucestershire residents to have their say on the future of waste and recycling in the area by taking part in our Resource and Waste Strategy; 2020 and beyond consultation.
We published the draft Strategy in June and members of the public are reminded to provide their feedback via the public consultation which runs until 27 September.
The new Strategy focusses on recycling even more waste and follows-on from the Waste Strategy 2015-2020, where measures were introduced to help achieve a recycling rate of nearly 60 per cent.
We are already ahead of the 2020 national target to recycle 50 per cent of waste and are now focussed on the next milestone of recycling 65 per cent by 2035.
To support this target, a series of 'myth-busters' has been published to debunk some current recycling misconceptions and encourage people to recycle more of their household waste.
As well as continuing to improve the recycling rate, the new strategy centres around working together to preserve resources by reducing waste – particularly single-use items. It also proposes moving to a circular economy, where materials are kept in use rather than being thrown away.
It takes influence from new legislation and targets for waste and recycling, as well as proposals set out in the Resource and Waste Strategy for England by Government in 2018.
Another element of the strategy includes a commitment to working with communities to keep our streets clean and tidy.
We aim to achieve this through:
• Helping residents to reduce and avoid waste
• Re-using more
• Recycling what's left
• Reducing litter and dog fouling
• Tackling and preventing environmental crime e.g. fly tipping.
Cllr Rachael Hunt, South Gloucestershire Council's Cabinet Member for Communities, said: "I'd like to remind and encourage all residents to participate in the Resource and Waste Strategy public consultation which is open now. The strategy covers important matters including single use plastics, fly-tipping and reducing litter, so it's vital that people provide us with their feedback and have their say.
"We want to build on the fantastic progress we've made alongside our communities over the past few years in relation to waste and recycling, with recycling rates nearing 60 per cent, and to do that we need residents to continue to engage and work with us."
For further information and to complete the consultation visit www.southglos.gov.uk/waste2020 or visit one of our One Stop Shops to have your say.