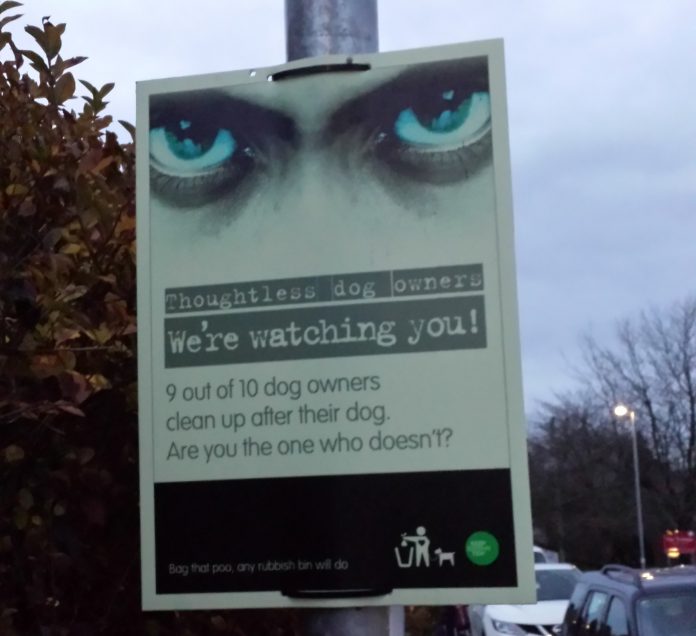 We want to reduce the amount of dog waste littering South Gloucestershire and ensure that dog owners meet their responsibilities, and have a number of new initiatives planned to help tackle these issues.
Incidents of dog fouling usually increase as the darker nights draw in, and studies show that people are less likely to pick up after their dogs when they feel they aren't being watched.
That's why we are taking part in Keep Britain Tidy's 'We're Watching You' campaign which features innovative, eye-catching, glow in the dark posters to help to remind thoughtless dog owners that "we're watching you". The posters will be placed in known problem areas across South Gloucestershire. Other areas of the country taking part in the campaign have seen a reduction in dog fouling by up to 77 per cent.
We are also consulting on extending the areas where we have powers to enforce dog fouling rules and giving officers the power to require a person in control of a dog to demonstrate that they have the means to clear up after their pet(s).
We are proposing to use powers under Section 59 of the Anti-Social Behaviour Crime and Policing Act 2014 to make a Public Spaces Protection Order (PSPO) in relation to dog fouling, which is an update to historic enforcement arrangements. This will enable us to extend the land types where we can enforce dog fouling rules to apply to all open-air land with public access. Currently we do not enforce against dog fouling on commons, woodland, farmland or heathland.
The Order will not cover land that is managed by the Forestry Commission, due to existing legislation exempting these areas from dog control orders, and any other owners or occupiers of land are also able to exclude land under their control from this Order. A further exemption from the PSPO would apply in relation to assistance dogs trained by a registered charity where the disability affects the person's ability to clean up after their dog.
We are also consulting on a proposal to give authorised officers the power to require anyone in control of a dog to demonstrate that they have the means to clear up after their dog(s). If this new power is adopted, authorised officers may approach dog owners and request them to produce appropriate means of removing dog waste and transporting it to a suitable bin. Dog walkers will be expected to demonstrate that they have bags or other means of clearing up, even if the dog hasn't defecated at that time. If they cannot do this, and they are not exempt from the PSPO, they will have committed an offence and may be issued with a fixed penalty notice.
Cllr Paul Hughes, Cabinet Member for Communities and Tourism, said: "We have some beautiful parks and walking routes in South Gloucestershire and we want to make sure that these can continue to be enjoyed by everyone.
"Dog owners have a responsibility to clean up after their pets, but unfortunately a small number of people do sometimes act irresponsibly. We hope that taking part in Keep Britain Tidy's campaign and updating our enforcement powers will give us more tools to help combat this issue."
Breach of a PSPO is an offence, which can result in fine of up to £1000 if convicted, however we are recommending issuing a Fixed Penalty Notice of £100 (reduced to £75 for prompt payment) instead of prosecution.
You can find out more and have your say on these proposals by visiting https://consultations.southglos.gov.uk/consult.ti/PSPO19/consultationHome
Alternatively you can email consultation@southglos.gov.uk or telephone 01454 868154. You can also download a paper copy or collect one from a library or One Stop Shop and return it to: South Gloucestershire Council, Corporate Research & Consultation Team, Council offices, Badminton Road, Yate, BRISTOL, BS37 5AF.
The consultation ends on Friday 11 January.