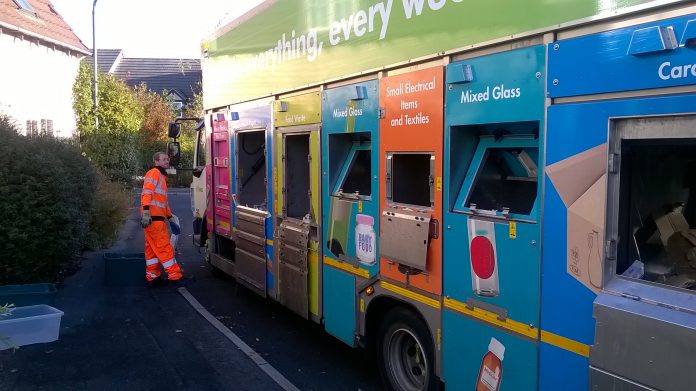 New figures released by South Gloucestershire Council show the success of their new weekly kerbside recycling collections, which began in June this year. An additional 1,279 tonnes of recycling has been collected which is a 14 per cent increase, including an extra 600 tonnes of paper and cardboard an extra 364 tonnes of food waste and an extra 315 tonnes made up of plastics, cans and textiles.
In addition to moving to weekly recycling collections, the council also introduced a simpler sorting system so that residents can easily recycle their waste. The combined effect is that people don't have to store as much recyclable material between collections, the council saves on the financial cost of disposing of black bin waste and we all reap the environmental benefits.
Waste that cannot be recycled is disposed of either as energy from waste or into landfill and the council has to pay at least £101 to dispose of every tonne of black bin waste in this way, so the extra 1,270 tonnes of recycling has allowed the council to save around £130,000 since weekly collections began.
Cabinet Member for Communities and Tourism, Councillor Heather Goddard, said: "This is fantastic news, I am so pleased that the changes we have made to make recycling easier for residents are paying off. Our communities deserve a real pat on the back for their efforts.
"Our new waste strategy is all about reducing the waste we send to landfill, which is expensive and no good for our environment. Before we launched our new strategy, 52 per cent of waste put into our black bins could have been recycled from home. This first response to making recycling easier is very encouraging.
"The next step is to reduce the size of people's waste bins, which will start to happen in the New Year. From January 15 we will be exchanging the 240 litre black bins for non-recyclable waste with 140 litre bins, to reduce recyclable waste ending up in the black bins and achieve our recycling target of 50 per cent by 2020. It is clear now that the pressure on those bins will be far less, thanks to residents' recycling efforts.
"There have been a number of other initiatives as part of the new approach, including making allowances for larger families to have extra black bin capacity and introducing separate bags for disposable nappy waste to help families with young children manage their non-recyclable waste.
"The people of South Gloucestershire have really risen to this challenge and I hope they will recycle a bumper load of Christmas wrapping and boxes having had a lovely holiday season."
Residents are currently having Christmas collection calendars delivered, but can check the dates for their area on the council website at: www.southglos.gov.uk/collectionday. Waste and recycling collections will not take place on Monday 25, Tuesday 26 December or Monday 1 January. Sort It recycling centres will be closed from 2:00pm Sunday 24 December. They will be closed all day on Monday 25, Tuesday 26 December and Monday 1 January.
The new recycling system is designed to make it easier to recycle more.
Plastic bottles, tubs, trays and metal cans, aerosols and foil should be mixed together in the white bag or a green box
Cardboard and cartons can be put together in the green bag or green box
Cardboard needs to be flattened and cut down to no larger than the green box
Your recycling should be sorted in the green boxes i.e. keep plastics, cans, aerosols and foil separate from cardboard and cartons; paper separate from glass etc.
We have also introduced new services for households with children in nappies.
Nappy bags for disposable nappy waste that can be put out with the black bin on collection day, leaving more space in the bin for normal household waste
Discounted reusable nappy kits to help reduce non-recyclable waste.
Most of the extra household waste produced over Christmas and New Year is recyclable, so make the most of your weekly collections for food waste, glass bottles and jars, cardboard and cartons, cans, foil and aerosols, plastic bottles, tubs and trays, paper, small electrical items and old clothes and shoes.
Wrapping paper (without glitter or plastic) can be recycled alongside other paper, greetings cards (without glitter or plastic) and cardboard. Real Christmas trees can be recycled with the garden waste service or can be taken to a Sort It recycling centre.