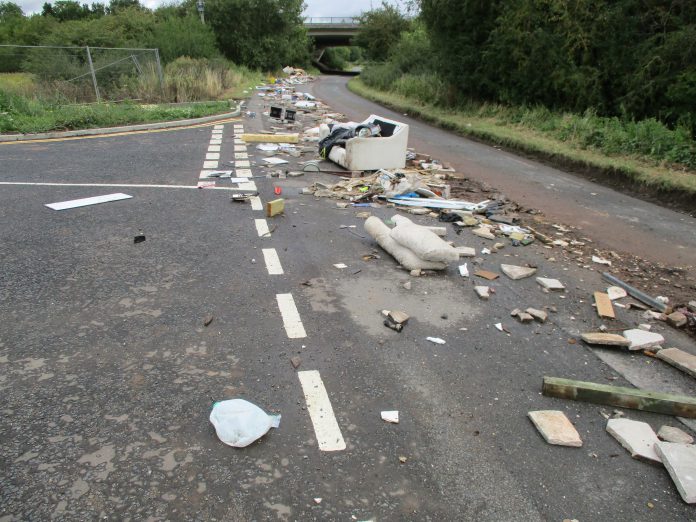 A man from Siston has been sentenced to 18 weeks in prison suspended for a year, 200 hours of unpaid work and ordered to pay a total of £2391 in prosecution and clear up costs following the discovery of a fly-tip at Henfield Road, South Gloucestershire in August 2020.
Jordan Payne of Arnold Road, Siston appeared at Bristol Magistrates Court on 28 June following an investigation by South Gloucestershire Council's Environmental Enforcement team into the large fly-tip which included furniture, garden waste and disused building materials.
During the investigation, waste from the fly-tip was identified by a householder as having been removed from their property after they had paid Payne to dispose of it. Payne was subsequently prosecuted for the waste related offences of fly-tipping, not holding any waste transfer notes and storing collected waste in and around his home address.
The investigation found that Payne had obtained a Registered Waste Carriers Licence in July 2020 and created a Facebook page to advertise his business, called 'Jordan's Waste Clearance'. Over the next six weeks during lockdown, he travelled across Bristol and South Gloucestershire collecting waste for payment from variety of locations. He would often store the waste outside or near to his home address before moving it elsewhere.
During an interview, Payne produced a pre-prepared statement admitting that he had dumped some of the waste at Henfield Road – but not all of it.
He claimed to have disposed of the waste at a waste management business in Bristol but stated that his records had been thrown away when his vehicle was recently sold. No Bristol-based, waste businesses had record of him disposing of anything at their premises.
South Gloucestershire Council's Cabinet Member for Communities and Local Place, Cllr Rachael Hunt said: "This was a brazen act of fly-tipping on the public highway without any thought given to the impact it would have on our residents, or the hazard and disruption it would cause to road users. Fly-tipping blights communities and our zero-tolerance approach means that anyone who fly-tips in South Gloucestershire is up to five times more likely to be prosecuted than anywhere else in the country.
"Our award-winning environmental enforcement team has a 100 per cent record of securing successful prosecutions for this type of offence and if you fail in your duty of care and allow rubbish to be fly-tipped here, you can expect to be caught and brought before the courts.
"We advise residents to always ask for a copy of the company's waste carrier registration certificate and ask where their waste is being taken, otherwise you could be liable. Do not be tempted to use people offering cheap waste clearance on sites such as Facebook and Gumtree unless you have confirmed that they are registered with the Environment Agency."
You can carry out these simple steps to make sure your waste is disposed of legally:
• Ask for a copy of the company's waste carrier registration certificate and ask where the waste is being taken. Legitimate firms will be happy to provide this information.
• Check whether the waste carrier is registered by calling the Environment Agency on 08708 506506 or by checking on their website https://environment.data.gov.uk/public-register/view/search-waste-carriers-brokers
Unwanted goods and household or garden waste can all be disposed of at our Sort It centres
Residents who see illegal fly tipping are encouraged to report it by contacting the StreetCare helpdesk on 01454 868000, email streetcare@southglos.gov.uk or visit www.southglos.gov.uk/flytipping