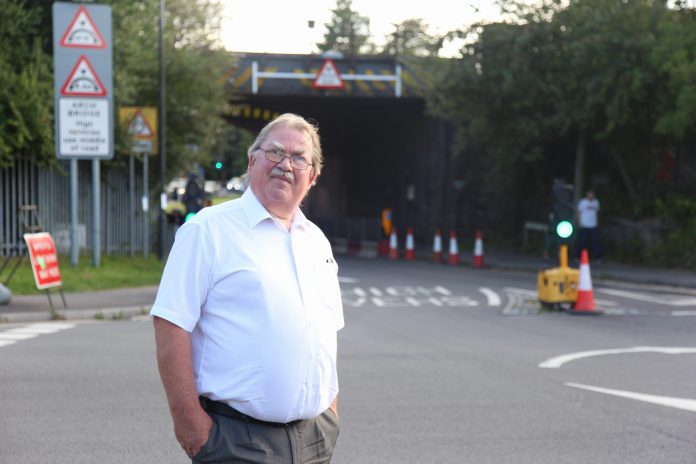 We are making permanent changes to the road layout under the Bristol Parkway railway bridge on Brierly Furlong in Stoke Gifford to help support pedestrians and cyclists.
In anticipation for increased traffic levels in September as we ease back to normality, engineers have been reviewing the experimental Traffic Management arrangements at the bridge.
The footways both sides of the roadway are to be widened but shuttle traffic lights will be removed and the road returned to two-way traffic, albeit at slower speeds.
A temporary 20mph speed limit order will be introduced along Brierly Furlong and Hatchet Road, from south of the mini-roundabout at Church Road junction to Radcliffe Drive roundabout.
To enable the footway widening works, Brierly Furlong will need to be closed overnight for 10 weekday nights between the hours of 8pm and 6am, from Monday 23 August to Friday 3rd September. The road will be closed between its junction with Bristol Parkway Station and Church Road.
In addition to this work, our road safety officers will be working with local schools to ensure road safety is at the fore of everyone's minds and that all users are fully aware of the changes and implications.
The footway improvements, which will be in place as schools and colleges return in September, follow a 14-month trial at the bridge. Historically this area has been pinch point for people walking or cycling as the road narrows under the bridge and to address this issue, as well as help people manage social distancing, shuttle lights were introduced along with temporary wider walkways.
South Gloucestershire Council's Cabinet Member for Regeneration, Environment and Strategic Infrastructure, Cllr Steve Reade said: "The temporary measures at Bristol Parkway bridge were implemented to enable social distancing, but while Covid-19 restrictions have been lifted and the necessity for them to remain in place has greatly reduced, there is still a need to maintain safety for pedestrians and cyclists under the bridge.
"Following consultation with local members, we will be introducing a new scheme which will re-open this local pinch point to two-way traffic while maintaining the safety of pedestrians and cyclists by widening the footpaths and introducing a lower speed limit. The work will be carried-out with overnight closures in place to minimise any disruption at peak times and we thank members of the public in advance for their patience.
"Our efforts to deliver a long-term solution to ensure safety under the bridge continue and we are working with Network Rail to explore the potential for a separate pedestrian tunnel through the embankment of the bridge."