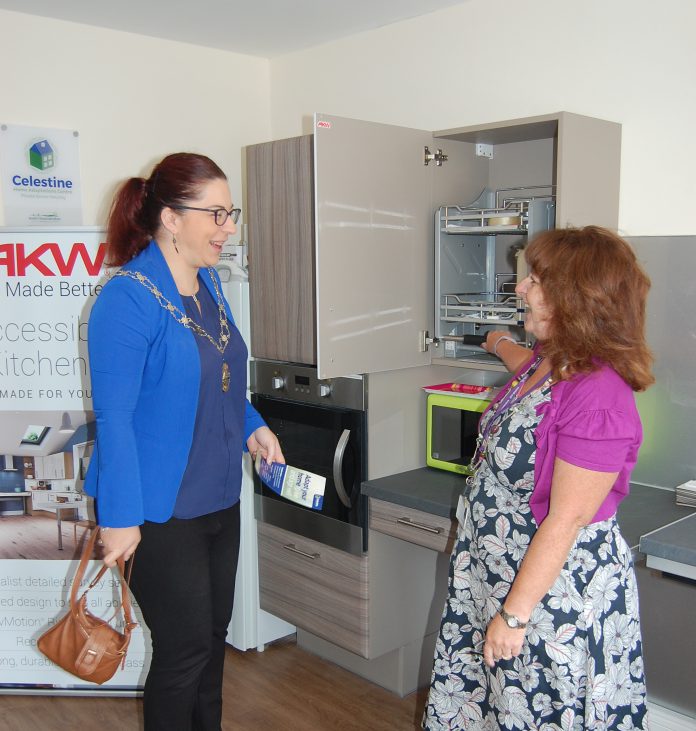 Chair of South Gloucestershire Council, Cllr Rachael Hunt, joined care professionals at Celestine House home adaptions centre in Yate for an open day on Thursday 21 June.
The open day was intended to showcase Celestine House to potential home adaption clients and saw the launch of new equipment, including a newly adapted kitchen and new bathroom fixtures, along with a dementia friendly information area.
Celestine House is managed by council staff who are on hand to provide lots of helpful information on all of the equipment that is available. The fully modified house demonstrates a variety of aids and adaptations all designed to assist disabled and elderly people to stay in their own homes for longer. The house is used to showcase this equipment to potential users and all of the equipment is available to try out, with training also available.
Cllr Rachael Hunt, Chair of South Gloucestershire Council, said: "We are lucky to have such a fantastic facility in South Gloucestershire for residents to be able to see and try out all of the latest aids and adaptations in a true home setting. We are committed to helping people stay independent in their homes for longer and this innovative resource will be hugely beneficial for older and disabled people when they come to make those all-important choices about adapting their own homes and gardens for the future."
Visitors to Celestine House have said:
"This well presented and realistic setting gives us ideas for alterations to our own property."
"Thank you for letting me roam around this fantastic facility, I've come away with lots of practical ideas for how to build accessible accommodation for my parents."
"I am so impressed with all the things available here."
For more information please contact psechousing@southglos.gov.uk or call 01454 868126.