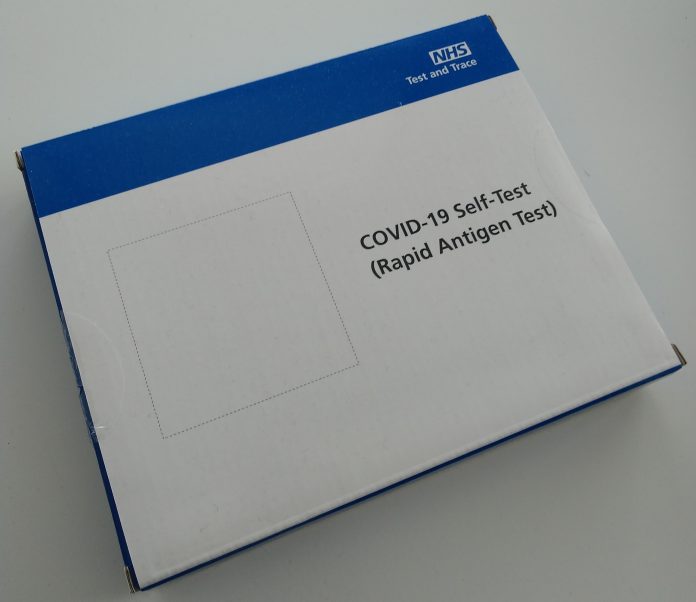 All residents aged 16+ without Covid-19 symptoms are now being encouraged to take free rapid (Lateral Flow) testing twice a-week to support Stage 2 on the Government's road map, with non-essential retail re-opening and restrictions having been eased further, these are the same tests already being used in secondary schools to test staff and students, as well as in many workplaces across the country.
It is important that as we gradually return to a new 'normal', we remember that Covid-19 is still a risk for many people and so part of our new routine should include twice-weekly testing.
1 in 3 people with coronavirus show no symptoms. Twice weekly rapid testing for those without symptoms is a vital tool in helping to identify cases of coronavirus we would otherwise not find.
Getting into the habit of twice weekly testing as part of our everyday lives will help us all to play our part and ensure that as we begin to move about and interact with more people, we are not also spreading infection.
These tests are an additional tool to help prevent the spread of Covid-19 infection alongside the key behaviours of washing hands, wearing face coverings, making space and meeting in the fresh air.
Taking a rapid Covid test is easy. You can take the tests at home and either order kits online or collect them from a growing number of sites across South Gloucestershire. If you are not sure of how to take a test, there are videos showing you how it is done, or you could choose to book your first test in at one of our Rapid Testing sites in Bradley Stoke, Kingswood or Yate, where our trained staff will talk you through the process. You can also pick up kits at these sites so that you can carry our future tests at home.
To order test kits online, visit: Order coronavirus (COVID-19) rapid lateral flow tests – GOV.UK (www.gov.uk).
Kits can be collected from our Local Testing Sites, seven days-a-week, between 2:00PM – 8:00PM (collection is ONLY available between these times as these sites are used to administer PCR testing for symptomatic people in the mornings):
Cleve RFC, The Hayfields, Cossham St BS16 9EN
University of West of England, Car Park 3, BS16 1FQ
BAWA Healthcare and Leisure 589 Southmead Road, Filton BS34 7RG
Kits may also be collected from our Rapid Testing sites, seven days-a-week, from 8:30AM – 5:30PM, at:
Bradley Stoke Leisure Centre, Fiddlers Wood Lane, Bradley Stoke BS32 9BS
Kingswood Leisure Centre, Church Road BS16 4RH (every day except for Tuesday and Thursday)
Yate Parish Hall, Station Road, BS37 4PQ
No appointment is necessary to collect kits and individuals may collect a maximum of two boxes of seven kits.
To book a test at one of our Rapid Testing sites, visit: Testing and self-isolating | BETA – South Gloucestershire Council (southglos.gov.uk).
To watch a video that you will show you how to take a test, visit: The rapid Covid-19 test process – YouTube.
In addition to taking the tests, it is really important that you register the result online, whether it is positive or negative, by following the instructions in the test kit box. This will help us to know that the numbers of cases we are reporting are accurate.
If you test positive, you must book a follow-up PCR test on the website Get a free PCR test to check if you have coronavirus – GOV.UK (www.gov.uk), or by calling 119 and self-isolate immediately.
If you do test positive, there is a lot of help and support available. Local contact tracing staff will be in touch to identify any close contacts to ensure that any cases can be contained, and they will also be able to direct you to financial and other help available so you can safely and confidently self-isolate to stop the spread.
This additional testing is for those who are not showing any symptoms of Covid. If you are unwell and showing any of the three main recognised symptoms of Covid-19, you should immediately book a PCR test by visiting Get a free PCR test to check if you have coronavirus – GOV.UK (www.gov.uk).
South Gloucestershire Council Deputy Leader, Councillor Ben Stokes, said: "Routine testing is an absolutely vital tool for us to be able to contain the spread of Covid-19 so that we can continue to progress along the road map out of lockdown set out by the Government.
"Each step along the way needs to be taken carefully. If everyone can get into the habit of taking a test twice a week, this will help act as a handrail, to make sure we can keep moving in the right direction.
"Having made it this far, I understand that people want to put Covid-19 behind them, but we must still remain vigilant to the risk of spreading the virus when so many people are still unvaccinated. This means continuing to follow the advice of Hands, Face, Space and fresh air as well as testing and isolating if you think you may have symptoms.
"No-one wants to undo the excellent work we have all done to reduce the number of cases so far and taking these simple tests as well as these new twice a week tests for those without symptoms is a small way to help make sure that as thing begin to open up more, we can do it safely.
"The ongoing rollout of the vaccine, ongoing testing and improved local contact tracing support for those who need to self-isolate will provide the platform we need to move forward with confidence.
"You have all done so much and so well. This testing is important, as is continuing to follow the guidance of Hands Face Space and Fresh Air."