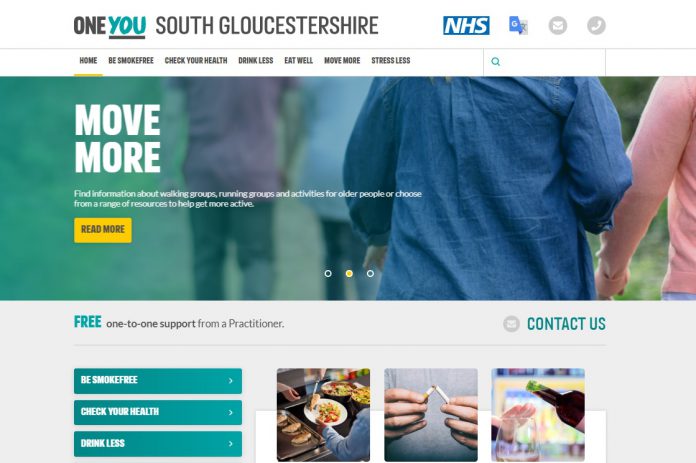 People in South Gloucestershire have a new and easy first point of contact for improving their health and wellbeing, through One You South Gloucestershire.
The One You South Gloucestershire website provides up-to-date tips and apps to help individuals make simple changes to improve overall health and wellbeing including reducing alcohol intake and managing stress. There is also a quit smoking service, guidance on healthy eating and practical advice on how to work towards a healthy weight.
This service can be accessed online with a helpline open during office hours where a practitioner can help. Visit the website today at https://oneyou.southglos.gov.uk/ or call on 01454 865337.
Cabinet Member for Adult and Public Health Cllr Ben Stokes said: "We have been offering many of these services for a few years, but this is the first time we have pulled them into a single resource allowing people to access information for themselves or speak to an adviser if they wish. We recognise that many health conditions are linked such as low physical activity and poor mental health, so by bringing these services together we can support our residents to make multiple and long lasting changes to improve their health."
Dr Jonathan Evans, GP at the Leap Valley Surgery in South Gloucestershire, said: "I would like people to know that the One You South Gloucestershire team is here to help them make better choices to improve their health. As a GP, I know from talking to my patients that they understand what unhealthy behaviour is, but it's not always easy to make a change in our busy lives. One You South Gloucestershire can help with tips, tools and encouragement to help the population of South Gloucestershire to make healthy choices.
"One You South Gloucestershire is not an alternative option to visiting a GP, but rather a service which helps people to play a part in managing their own health and wellbeing effectively and prevent any potential health conditions from occurring."
Helen Venning from Hanham, said: "I've been going to the Five Ways to Wellbeing workshops, the support and advice they have provided has been really helpful. Attending the workshops has got me out and about, making me feel less isolated and more independent. They have also given me helpful tips on my diet and I found out about a local singing group which I have joined. This has further boosted my confidence and I've made new friends."
One You South Gloucestershire is a free service for all adults over the age of 18 who are a South Gloucestershire resident or registered with a GP practice in South Gloucestershire.
This service is managed by South Gloucestershire Council and partners (including GP surgeries, pharmacies and Southern Brooks Community Partnerships) and is funded by South Gloucestershire Council and the Bristol, North Somerset and South Gloucestershire Clinical Commissioning Group (BNSSG CCG).
For more information see https://oneyou.southglos.gov.uk/