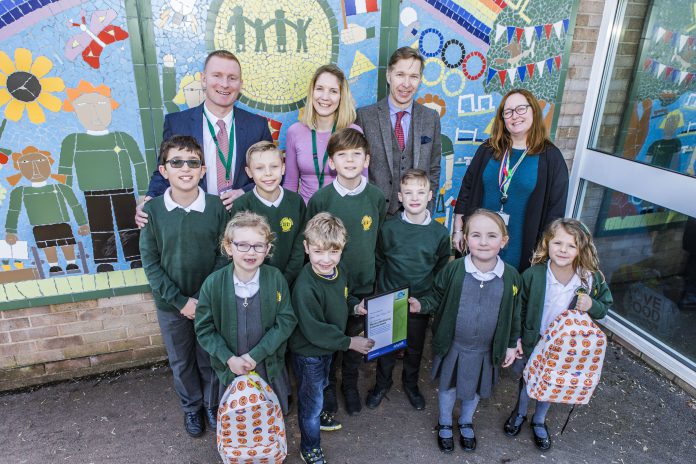 Three schools in South Gloucestershire have been presented with awards for nurturing a positive culture which supports good mental health and wellbeing in children and staff.
The Mental Wellbeing Awards are part of the Health in Schools programme, which was developed by our Public Health and Wellbeing team.
The awards are designed to evaluate the schools' ethos and environment as well as the mental health support provided for students, the teaching and learning around wellbeing, staff development and work with parents and carers.
Schools are provided with training, resources and networking opportunities to share examples of best practice as part of the scheme. A 'whole school' approach is encouraged to improve the mental health of everyone connected with the school.
South Gloucestershire Council's Cabinet Member for Public Health, Cllr Ben Stokes visited Longwell Green Primary School, New Horizons Learning Centre in Kingswood and Sir Bernard Lovell Academy in Oldland Common during Children's Mental Health Week (3 to 9 February) to present the awards.
Cllr Stokes said: "Congratulations to the deserved winners who demonstrated an impressive commitment to tackling the issues surrounding mental health and emotional wellbeing. One of the ways they have done this is by cultivating a school environment where children, staff and others feel supported to speak-up and seek help if they are experiencing problems.
"The Council's number one priority is to improve educational standards and supportive schools will give our young people the best possible chance to achieve their full potential."
Meanwhile, South Gloucestershire Libraries have launched the 'Reading Well' programme, which is a national book on prescription scheme that provides helpful reading to support children's mental and physical health and wellbeing.
Every child in South Gloucestershire has received a leaflet with the list of books which help children understand their feelings and emotions in a range of situations.
Conrad Hutton, Headteacher of Trinity CE VC Primary School, said: "The Reading Well for children book list is fantastic. The collection means we have a range of age-appropriate books that allow us to explore issues with pupils, their families, classes and even the whole school in an accessible and sensitive way."
All of the books are available from South Gloucestershire Libraries and can be reserved at www.librarieswest.org.uk. Find your nearest library at www.southglos.gov.uk/libraries