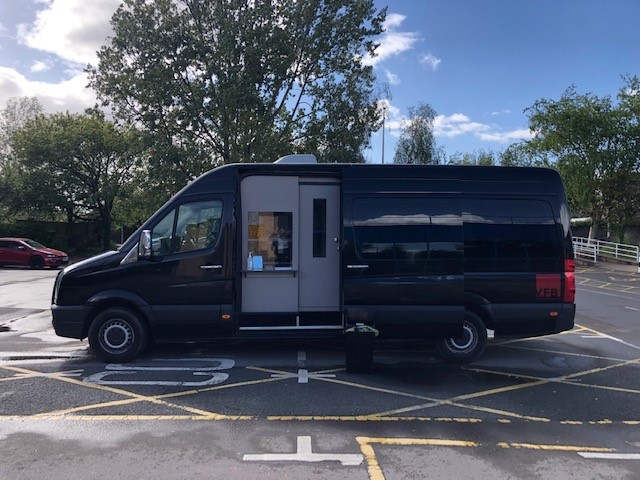 We are introducing a mobile option that will take rapid (lateral flow) asymptomatic testing kits to communities across South Gloucestershire, as part of our support for all residents over the age of 16 without symptoms, who are now being encouraged to take twice weekly tests.
A specially equipped vehicle will visit up to 14 locations across the district each week, giving people the option of collecting testing kits to complete at home, as well as the opportunity to take a test with guidance from trained staff if you are unfamiliar with the process. This programme will begin on Saturday 15 May, with visits to Kingswood and Thornbury High Streets.
Testing is a central pillar, alongside the continued roll-out of the vaccine, and effective local contact tracing including supporting those who need to self-isolate, that will mean we can live safely with Covid-19 over the coming months.
Together these steps, combined with individuals following the guidance on social distancing, hand hygiene, face coverings and fresh air, will help us along the road map out of restrictions and enable us to live safely with the coronavirus into the future.
The Government is encouraging all residents over the age of 16, who do not have Covid-19 symptoms, to make regular, twice weekly testing, using rapid home test kits, part of their routine as we enjoy the increased opportunities to get out and mix safely with more people.
The mobile offer will visit sites across the district regularly, including rural areas such as Hawkesbury, Marshfield, Severn Beach and Pucklechurch, as well as communities in Thornbury, Charfield, Cadbury Heath, Emersons Green and Patchway.
It will go to:
Mondays at Cadbury Heath Community Centre (5 School Rd, Barrs Court, Warmley, Bristol BS30 8EN) from 9:00AM – 12:00PM.
Tuesdays in Emersons Green (Bottegino's, Emerson Way, Emersons Green, Bristol BS16 7AE) from 9:00AM – 12:00PM and Hawkesbury Village Hall (High St, Hawkesbury Upton GL9 1AU) from 2:00PM – 5:00PM.
Wednesdays in Staple Hill (Fountain Square Band Stand, Broad St, Staple Hill, Bristol BS16 5LN) from 9:00AM – 12:00PM and Marshfield Community Centre (Hayfield, Marshfield, Chippenham SN14 8NZ) from 2:00PM – 5:00PM.
Thursdays in Longwell Green (ASDA, Cravens Way, Barrs Court, Longwell Green BS30 7DY) from 9:00AM – 12:00PM and Charfield Community Centre (Wotton Rd, Charfield, Wotton-under-Edge GL12 8TG) from 2:00PM – 5:00PM.
Fridays in Stoke Gifford (Sainsbury's, Fox Den Road, Stoke Gifford BS34 8SS) from 9:00AM – 12:00PM and Severn Beach Village Hall (Ableton Ln, Severn Beach, Bristol BS35 4QE) from 2:00PM – 5:00PM.
Saturdays in Thornbury High Street (17 High St, Thornbury, Bristol BS35 2AE) from 9:00AM – 12:00PM and Kingswood High Street (open space near Iceland Foods, 41-43 Regent St, Kingswood, Bristol BS15 8LA) from 2:00PM – 5:00PM.
Sundays at Patchway Community Centre (Rodway Rd, Patchway, Bristol BS34 5PF) from 9:00AM – 12:00PM and Pucklechurch Community Centre (Abson Rd, Pucklechurch, Bristol BS16 9RH) 2:00PM – 5:00PM.
Taking the test is simple, with results in 30 minutes. After taking the test, you are then required to register the result via the NHS website or by calling 119. A short video shows you how to take the test: How to use a Covid-19 home test kit – YouTube.
By making testing part of your routine, twice a-week, you will help to identify cases of Covid-19 which may otherwise not be caught before people unwittingly spread the virus, which is still present in our communities.
South Gloucestershire Council's Director of Public Health, Sara Blackmore, said: "Testing is a really important tool that is helping us to manage Covid-19. Every case we can identify helps us stop the spread and bring the virus further under control. That is why we are so keen to make testing available to everyone; by taking the tests to our communities so that they can take part in the programme and do their part to keep themselves and those around them as safe as possible.
"There are three central pillars to the work we will all need to do over the coming months so that we can live safely with Covid into the future. In addition to taking up regular testing, we are of course encouraging everyone who is offered the vaccine to take it as it is the most effective way to stop infection and transmission of the virus. Our local contact tracing service is also proving very effective in reaching out to those who do test positive to make sure they know how to self-isolate and have access to any support, including the Self-Isolation Payment, that they need to keep our community safe.
"Everyone who can, should make regular rapid covid testing part of their new routine. We cannot be complacent because we know that the virus is still in our communities and people are still getting sick. We can, however, help to reduce this and we can, by getting vaccinated, testing and isolating if required to, learn to live safely with Covid."
South Gloucestershire Cabinet Member for Adults and Housing, Cllr Ben Stokes, said:
"I am very pleased that we are now able to make testing available in more local communities so that everyone has the opportunity to make easy, rapid testing part of their routine.
"The vaccine is making a huge difference, as are people self-isolating when they need to. But testing is something we all need to do regularly to really help keep the virus in check.
"It is easier than ever to get test kits to do at home and I am particularly pleased that using our mobile model, we are able to make sure that no one misses out."
There are now many ways to get hold of the tests to take at home. They come with simple instructions, but you can also see a video online that shows you how to take the test and how to register the result.
You will be able to collect kits from our site at Bradley Stoke Leisure Centre, where you are also able to take a test on site if you need assistance or prefer not to take it at home. You will be able to book a test appointment if you prefer, but this is not essential. To book, please visit our website at Have a Covid-19 rapid test at a testing site | BETA – South Gloucestershire Council (southglos.gov.uk).
A significant number of pharmacies across South Gloucestershire are now making testing kits available for collection and you can find details of these online at the NHS website.
Test kits can be ordered online by visiting Order coronavirus (COVID-19) rapid lateral flow tests – GOV.UK (www.gov.uk) and these are normally delivered the next day.
You can also be able to collect them, during staffed hours, from most South Gloucestershire libraries.
More information about the various ways you can access asymptomatic Covid-19 testing in South Gloucestershire is available on our website here: Testing and self-isolating | BETA – South Gloucestershire Council (southglos.gov.uk)