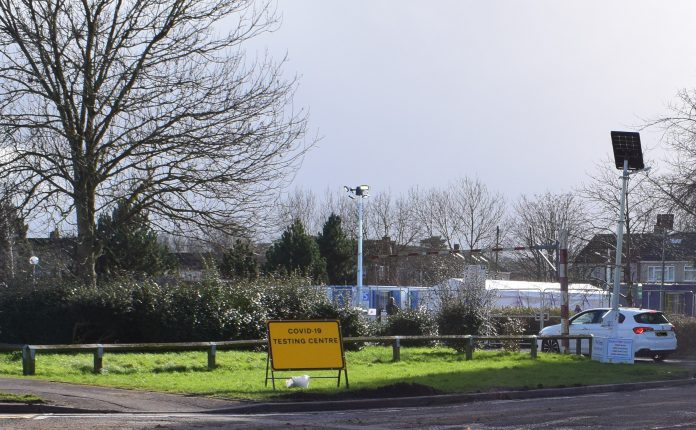 A new Local Test Site for people with coronavirus symptoms has opened at Courtside car park, next to Courtside Surgery, in Yate, BS37 4DQ, today (18 February 2021).
We have been working in partnership with the Department of Health and Social Care over recent weeks to identify new sites for testing in our communities and this site will offer improved accessibility for people in the Yate community.
This new site replaces a Mobile Testing Unit previously sited at Culvert Avenue, Yate, which will close on Sunday (21 February). The new site in Courtside car park will be a walk-through test facility for people with symptoms of coronavirus (a new, continuous cough, a high temperature, or a loss or change to your sense of test or smell). Appointments have to be pre-booked using the online system at gov.uk or by calling 119. Government guidance says that people with symptoms of coronavirus should book a test and only leave their home to have the test.
Sarah Weld, South Gloucestershire's Deputy Director for Public Health, said: "Free and accessible testing is a cornerstone of the NHS Test and Trace service which brings together testing, contact tracing and outbreak management. This site forms part of an expansion to open more local test sites across the UK and has been located in Yate as it is one of the highest populated areas in our district."
In addition, the Mobile Testing Unit at BAWA Healthcare and Leisure on Southmead Road (BS34 7RG) is currently being converted to a Local Testing Site and will also offer an option for local residents to attend this site on foot, in addition to drive-through, from Tuesday 23 February.
We have other testing sites in operation across South Gloucestershire and we continue to expand our testing offer to residents to ensure coronavirus testing is accessible. Further information about the different types of testing available in South Gloucestershire is available on our website www.southglos.gov.uk/testing
Please ensure that you book a test if you have coronavirus symptoms: a new continuous cough, a high temperature and a loss or change in sense of smell or taste, and if you are contacted follow the NHS Test and Trace advice.