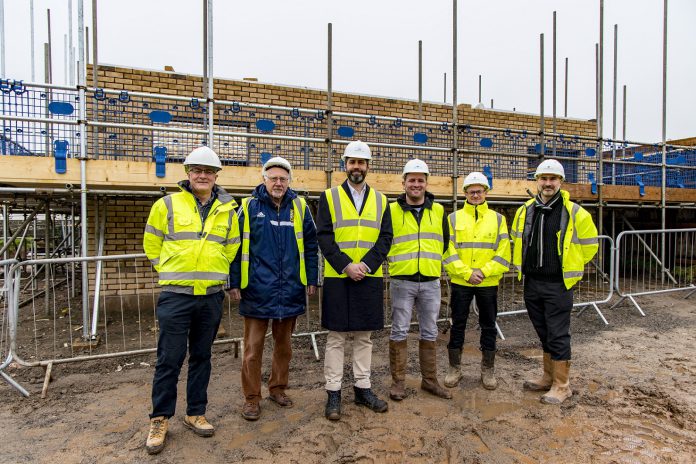 Work is progressing well on 30 climate friendly and energy efficient new family homes being built at Manor Gardens, a new development located off Malmains Drive in Frenchay, South Gloucestershire.
A site visit took place on Thursday 9 March with representatives from South Gloucestershire Council and Aequus Construction Limited to view the development's progress as the first off-plan sales are launched.
South Gloucestershire Council is working in partnership with Bath & North East Somerset Council's housing company Aequus to deliver the 30 energy efficient modern family homes, which range from one to four bedroom properties. Eleven of the homes will be affordable, of which eight will be designated for social rent via Alliance Homes and three will be available for shared ownership.
All foundations at the development are now complete and superstructure brickwork is progressing to the affordable homes and show home, which is nearing roof level. The mains services, drainage and on-site road is also progressing and completion of the whole site is anticipated in the winter of 2023, with some homes ready to occupy earlier.
All of the homes are designed to achieve a high level of low energy performance, exceeding Building Regulations, and include climate friendly elements such as solar panels, air source heat pumps, a high degree of thermal insulation and excellent air tight performance. The development will also feature a central public open space and will include biodiverse and resilient planting and sustainable urban drainage. Each home will also have a dedicated electric vehicle charging point.
The entire development is being built to energy efficiency standards set out by the Association for Environment Conscious Building (AECB) and are designed to keep household bills to a minimum. The measures will reduce emissions and cut energy bills by an estimated 70 per cent in comparison to similar average properties.
Councillor Ben Burton, cabinet member responsible for corporate resources at South Gloucestershire Council, said: "It is great to see the progress at Manor Gardens as the new energy efficient, green homes start to take shape.
"Many families are in need of a new home, and with the cost of living and high energy prices impacting us all, these climate friendly, efficient properties have the potential to make a real difference to people's lives.
"A green space and a play area are also part of the plans to help existing and new residents in the area continue to benefit from places to walk their dogs, for children to play and where everyone can enjoy the outdoors.
"We need to do all we can to help increase the delivery of energy efficient housing and the use of renewable energy. We're proud that this development supports our climate and nature emergency ambitions for South Gloucestershire and our recently approved budget for the coming year includes £1.5m to deliver further progress on the council's response to the climate emergency."
Charles Gerrish, Chair of Aequus said "We are delighted to be making very good progress on our first development with South Gloucestershire and we share ambitions to deliver a mix of new sustainable homes for the local community."
The Manor Gardens development is the first to be delivered in South Gloucestershire through joint working between the local authority and house builder Aequus, and is part of the council's ongoing efforts to improve local communities by delivering quality homes in a plan led approach.
The agents for the site are Connells Estate Agents who are now extremely excited to launch the first two eco-friendly homes for sale at Manor Gardens. They have already received a number of enquiries from buyers in the local area due to the location and energy credentials, and are looking forward to introducing buyers to their new homes. For more information please email manorgardens@connells.co.uk