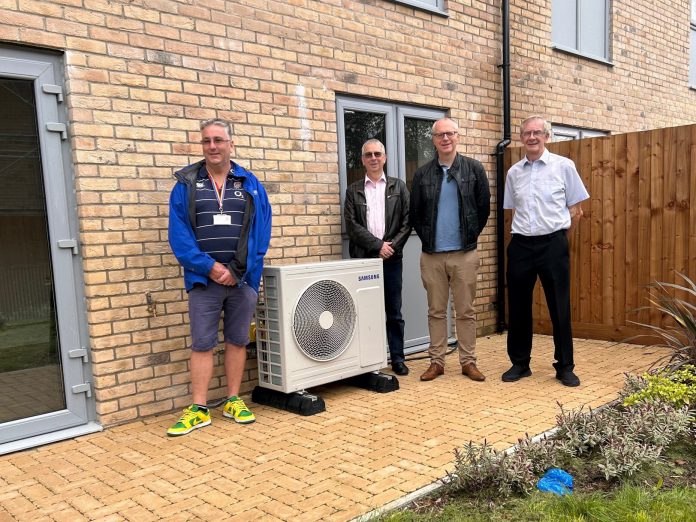 A project to deliver 30 new energy efficient homes including 11 affordable homes is nearing completion, with the opening of a show home at the Manor Gardens development off Malmains Drive in Frenchay.
The homes have been built by Aequus Construction Limited (ACL), which is a partnership with South Gloucestershire Council, part of the councils ongoing efforts to improve local communities by delivering quality, sustainable homes through a plan-led approach. The land the homes are being built on was sold to ACL by South Gloucestershire Council under the partnership arrangement.
The entire development is being built to highly energy efficiency standards, set out by the Association for Environment Conscious Building (AECB). These are designed to keep household bills to a minimum and reduce their impact on the local environment.
The new homes include climate-friendly elements including solar panels, air source heat pumps, extra insulation, mechanical ventilation and recovery systems and a dedicated electric vehicle charging point.
These measures will reduce emissions and cut energy bills by an estimated 70 per cent in comparison to similar average properties.
The development will also feature a central public open space and will include biodiverse and resilient planting and sustainable urban drainage.
Eleven of the homes will be affordable, of which eight will be designated for social rent via Alliance Homes and three will be available for shared ownership.
South Gloucestershire Council Cabinet Member for Resources, Councillor Adam Monk, said: "The manor Gardens project is not just about building new houses, it's about providing homes for people in our communities, and it is about making this new community sustainable in all ways, including using the latest designs to reduce the climate impact and running costs of living here.
"The show home illustrates what is possible when we work collaboratively and with the long-term future of our communities in mind.
"Aequus and the council have engaged with existing residents about this development and where the construction has had an impact locally, we have worked together to resolve issues. This is how plan-led and community minded development should work."
Charles Gerrish, the Chair of Aequus which is a company owned by Bath & North East Somerset Council, said "we are delighted to be working in partnership with South Gloucestershire Council to deliver homes to a high standard of quality and sustainability, whilst also delivering affordable housing and financial returns to our council partners."
The Manor Gardens development is the first to be delivered in South Gloucestershire through the Aequus partnership.