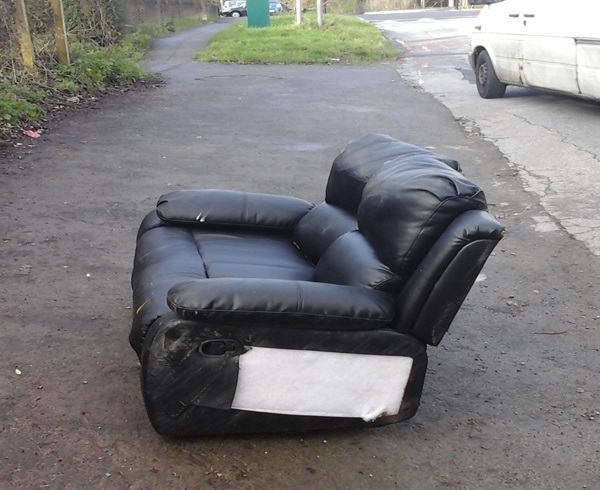 A man from Thornbury has been ordered to pay a total of £2,599 in fines and costs after South Gloucestershire Council prosecuted him for waste offences following the discovery of a fly-tip.
After failing to attend two earlier court hearings, Stephen Mitchell, 31, of Frome Court in Thornbury was arrested on warrant and brought before Bristol Magistrates Court on Friday 28 July. He pleaded guilty to the offence of fly-tipping and was ordered to pay a fine of £1,400, along with £639 in costs and a £560 victim surcharge, making a total of £2,599.
The court heard that on 31 December 2022 a fly-tip of a sofa occurred in a lay-by at Hambrook Lane in South Gloucestershire. The incident was caught on a local resident's door camera and showed a rental van stopping in the lay-by and then driving off leaving a sofa behind. It was reported to South Gloucestershire Council.
When council operatives cleared the fly-tip on Friday 6 January 2023, documents were found in the sofa relating to an address in Hambrook Lane. Enquiries at both the property and the van rental company identified Steven Mitchell was the hirer of the vehicle at the time of the fly-tip.
Mitchell was interviewed under caution by council officers on Monday 20 January, where he claimed that he and a friend had collected the sofa from his mother's home. He said that upon getting in the van, his friend had made some phone calls and found someone who wished to purchase the sofa and agreed to go to the Hambrook Lane lay-by for the exchange. Mitchell stated that he remained in the van whilst his friend got out and carried the sofa around the back of the van to the awaiting car. He claimed that when his friend got back in the van, he had been paid £175 in cash.
It was put to Mitchell that the camera footage had a view of the rear of the van and no-one could be seen approaching or leaving the passenger side of the van. On being shown photos of the sofa he agreed that he would not pay £175 for it. He then stated that money was no object and if we wished to fine him for it, he would pay the fine. The interview was concluded and Mitchell was reported for summons.
Councillor Leigh Ingham, cabinet member responsible for environmental enforcement at South Gloucestershire Council, said: "I hope this latest prosecution acts as a deterrent to anyone who considers fly-tipping in the area. South Gloucestershire Council will pursue anyone who dumps their rubbish illegally through the courts and our award-winning environmental enforcement team has a 100 per cent record of securing successful prosecutions for this type of offence.
"We all have a responsibility to ensure that our waste is disposed of in a responsible and lawful manner. This waste could have easily been disposed of at one of our Sort It recycling centres, but instead it was left discarded by the roadside and expected that others would deal with its removal."
You can take large items to the council's Sort It recycling centres where they can be disposed of at no cost www.southglos.gov.uk/sortitcentres
If you need unwanted large household items collected from your home you can:
sell or donate them via Freecycle, Gumtree and eBay or your local shop window or noticeboard
arrange for a waste contractor to remove them
donate them to charity or organisation who do collections
ask the council to collect them from your home.
The council can collect up to three large items for £34.90 or the concessionary rate of £17.45 for those on certain benefits. To book, call 01454 868000 or visit your local One Stop Shop. For more information about collections for large household items visit https://beta.southglos.gov.uk/collection-of-large-household-items/
Residents who see illegal fly tipping are encouraged to report it by contacting the council's StreetCare helpdesk on 01454 868000, emailing streetcare@southglos.gov.uk or visiting www.southglos.gov.uk/flytipping