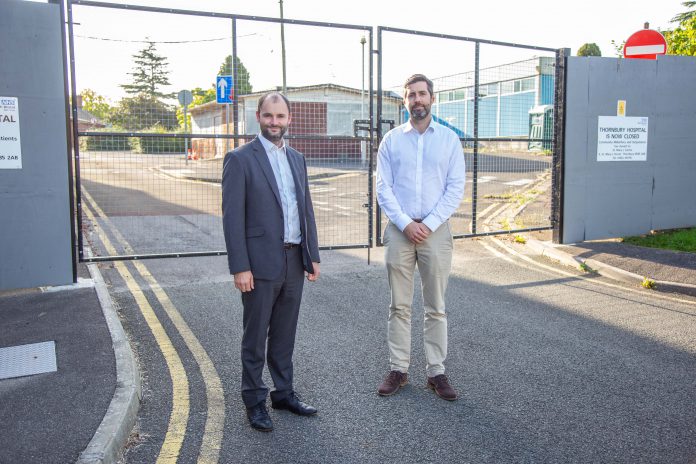 We are delighted to announce that we have now completed the purchase of the former Thornbury Hospital site, which will allow us to move forward with plans for at least 70 Extra Care Housing units and paves the way for much-needed new health facilities for the town.
This important milestone is part of our vision to ensure the Thornbury community has the variety of homes local people need, and the services surrounding them to support a growing and thriving community.
Over the past few months, final surveys and assessments of the work required to bring the former hospital site back into productive use for the town have been undertaken. We have now been able to complete the land transfer of the almost four-acre site for £3.4 million from North Bristol NHS Trust (NBT).
Extra Care Housing, sometimes known as assisted living, is typically built in clusters, so that support services can be provided on site. It is specifically designed for older people with care and support needs who want to be active and independent.
In keeping with our Council Plan objective to help people to help themselves; to stay healthy and independent, Extra Care Housing enables individuals to lead active lives in their communities, with the reassurance that the help they need is incorporated into the place they live.
Works will commence later this year to facilitate demolition of the former hospital buildings and develop outline plans for the new facility. We will then work with an Extra Care Housing provider to obtain full planning consent in 2023 and move to deliver the project, which may also include the construction of the new homes. Construction will commence following grant of planning, allowing the new community to begin welcoming residents on completion of the extra care units in 2024/25.
We are also continuing to work closely with Bristol, North Somerset and South Gloucestershire Clinical Commissioning Group (BNSSG CCG) to ensure that Thornbury has adequate healthcare provision and there is the potential capacity to incorporate a replacement health centre in addition to the new homes.
We will fund the land purchase through the West of England Combined Authority's Land Acquisition Fund, to be repaid as the land is redeveloped. We have met with Government Ministers and MPs and will continue to make the case for additional investment in health services in the Town.
Leader of South Gloucestershire Council, Cllr Toby Savage, said: "The redevelopment of the former Thornbury Hospital site is a longstanding commitment of this council to the people of the town and I am delighted that it is reaching this important milestone.
"Bringing this well-placed land back into meaningful use for the community, particularly for those residents who want to stay active and to receive support while retaining their independence, is central to our Council Plan priorities to enhance our local communities and support residents to live full and independent lives.
"This project has and will continue to be a partnership, with NBT and the CCG, both of whom share our vision for a thriving town long into the future."
MP for Thornbury and Yate, Luke Hall, said: "This milestone is an important and exciting one for the future of Thornbury and its residents. Redeveloping the former hospital site will bring new life to centre of the town, through new homes that will specifically cater to those with support needs.
"We are continuing too to work to secure additional investment in new health facilities for the town. I recently spoke to the Minister of State, Edward Argar, to press the case for funding to deliver this vital new infrastructure that Thornbury needs."