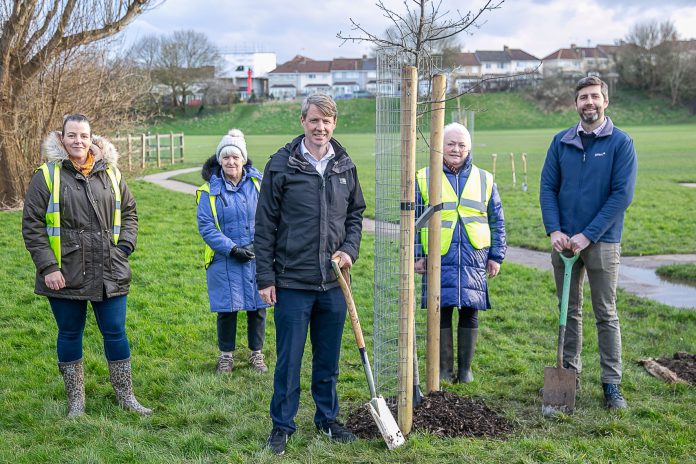 A multimillion-pound regeneration bid to Government that will deliver better transport links from Kingswood High Street to nearby green and cultural spaces has been formally submitted by South Gloucestershire Council.
The Connecting Kingswood Project will deliver a new phase of the Kingswood Masterplan and builds on the unprecedented £25 million investment vision for the town centre, would see active travel links being established to the likes of:
• Kingswood Park
• Southey Playing Field
• Magpie Bottom
• Grimsbury Farm
• The Bristol to Bath Railway Path
• Avon Valley Woodlands and
• Kingswood Heritage Museum and gardens
As part of the project, which is seeking £17 million from the second round of the Government's Levelling Up Fund, new physical routes will be created and existing ones improved, enhanced by planting, cycle hub facilities, resting spaces and a new community café in Southey Playing Fields.
Connecting Kingswood will also establish the community as the first 'Walkers are Welcome' town in the West of England, delivering a significant boost to eco-tourism, leisure, recreation, hospitality and retail businesses in the area.
The Government's Levelling Up Fund was created to invest in infrastructure that improves everyday life across the UK, including to support projects that invest in, maintain and expand cultural and heritage assets.
An important factor for bids is that they must address the impacts of climate change and directly impact those facing the highest levels of deprivation.
Leader of South Gloucestershire Council, Cllr Toby Savage, said: "The council is seeking to further its unprecedented level of investment into delivering the Kingswood Masterplan with the submission of this fresh bid. I am pleased we will be looking to improve accessibility to key locations in the area and creating a greener and more pleasant environment with people at the heart of regeneration."
Kingswood MP Chris Skidmore said: "I am delighted to see this Levelling Up funding bid for Kingswood. This is a competitive bidding process, but if we are successful then this new funding would allow new walking and cycling links from the High Street to Southey Park, Grimsbury Farm, Kingswood Heritage Museum and other locations. Alongside these new physical routes, there would be enhanced planning, green improvements and a new community cafe facility at Southey Park.
"This work will build on the £25 million investment that has already kickstarted regeneration locally through the council purchase of the Kings Chase Shopping Centre, the restoration of the Whitfield Tabernacle and pedestrianising part of Regent Street. This new Connected Kingswood Project is the next phase of public investment, which will help unlock a new wave of private investment too."
Chairman of the Friends of Southey Park, Rhys Eggleton, said: "This bid will go a great way to linking the marvellous green spaces across Kingswood and we fully support the work by the council to feature Southey Park within the plans. A new café and community facility would provide not only local people with more reason to visit, but also those from further afield who will be able to see just how vibrant the community is. These enhancements would be pivotal in helping to promote our valuable space of recreation and wellbeing."