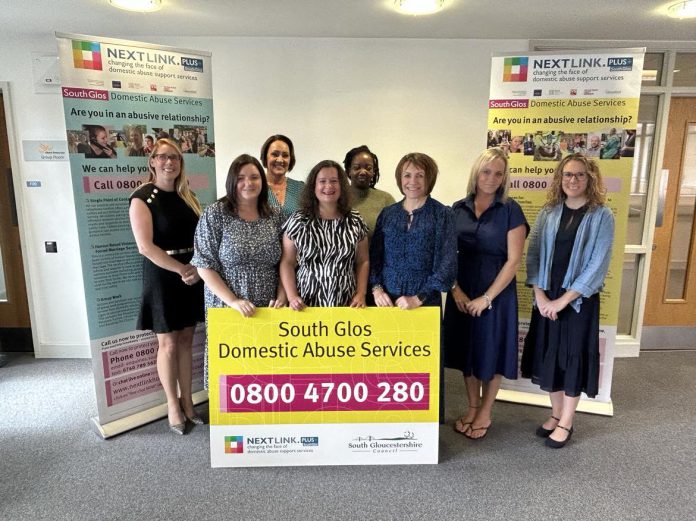 Today marks the launch of the new South Gloucestershire Next Link Plus+ support service for people affected by domestic abuse and violence.
South Gloucestershire Council has been commissioning specialist support service Next Link to offer help, safety and advice to anyone suffering domestic abuse since 2017. From 1 October 2023 Next Link has been recommissioned to provide these services and more for the next five years.
Alongside existing services, Next Link Plus+ will offer more safe house provision and a range of dedicated services to adult and child victims and survivors living in the community.
The service will include:
21 safe house bed spaces for single women, women and children, men, women with complex needs and victims from the LGBTQ+ community
Dedicated bed spaces for victims who have a disability
A new children and young people's service, including play therapy
Access to counselling and other specialist services including Victim Support, Womankind, Nilaari, an education and employment coach and 1625 Independent People
Independent Domestic Violence Advisor (IDVA) outreach support
Specialist IDVAs for victims living in rural communities, those with complex needs or mental ill health needs, victims at risk of honour-based violence or forced marriage, older survivors and those with a learning disability, victims from the LGBTQ+ community and victims who are black or from a minority ethnic background
Identification and Referral to Improve Safety (IRIS) worker supporting GP practice
Group programme for victims and survivors
Independent Domestic & Sexual Violence Advocates (IDSVAs) based at Southmead A&E and maternity services
Single point of contact support.
South Gloucestershire Council and its partners are committed to stopping domestic abuse in all forms. The recommissioning follows an extensive survey of staff, partner agencies and people who have used the service in the past.
To raise awareness of this new service, the council and Next Link are holding a series of internal and public information events.
The public events will take place on:
Councillor Leigh Ingham, cabinet member for communities and local place at South Gloucestershire Council, said: "I am so pleased to launch this new and improved service today.
"We are absolutely committed to preventing, intervening and reducing domestic abuse across South Gloucestershire and will stop at nothing to protect people facing abuse from a partner, family member or carer.
"The new services being offered extend the support available to all and crucially, will go further to help children who have been affected by domestic abuse to recover and go on to live fulfilled, happy lives."
Sarah O'Leary, Next Link Plus+ CEO, said: "We are delighted to continue to deliver this much-needed service for victims and survivors of domestic abuse in South Gloucestershire.
"South Gloucestershire Council estimates that around 44,100 of their residents will have experienced domestic abuse over their lifetime. On an annual basis, this equates to 13,410 individuals every year who experience domestic abuse (both familial and intimate partner violence).
"Despite witnessing every day how the victims and survivors we support go on to lead safe and fulfilling lives, we know that the traumatic impacts of domestic abuse are far reaching and affect many aspects of a child or adult's life. Our vision under Next Link Plus+ is that all child and adult victims and survivors can get the help and support they need when they need it.
"It is important that professionals, victims and members of the public know what help is available. Our information events will provide leaflets about the range of services we offer and how to access them, and you can speak to one of our qualified staff members to find out more."
To access support in South Gloucestershire, visit www.nextlinkhousing.co.uk/southglos/ or call 0800 4700 280.
For other information and support available visit www.southglos.gov.uk/domestic-abuse