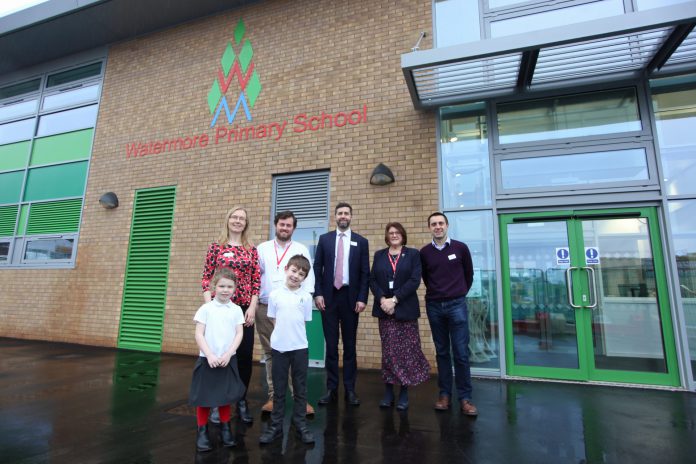 The development of Watermore Primary School in Frampton Cotterell is more than two-thirds complete, with pupils and staff now together on a single site and making use of new buildings, which have been designed to increase the availability of school places locally, provide a better learning environment for hearing impaired children and generate their own solar power.
The £7 million development is part of our four year, £78 million capital investment programme to improve schools in the district. The new facilities bring the school together on Lower Stone Close, having previously been spread across two sites.
With the whole school now decanted into the new buildings, the final phase is now underway. This will see the redundant buildings next to the new build demolished and replaced with new outdoor spaces, including a Multi-Use Games Area, recreation and wildlife areas. That work is due to be completed this summer.
The project has brought the school right up to date. Watermore caters for a number of children with hearing impairments and other special needs and the new building has been designed so that classrooms and halls have a soft, less echoing environment, which will make a real difference to these children.
It is also much more sustainable. The school has installed almost 40 square metres of photovoltaic solar panels, which will produce up to 5,050 kwh each year of electricity, offsetting 2,620.95 kg of CO2 each year and saving significantly on the schools running costs.
As the surrounding community continues to grow, the new school is moving to a two-form entry, increasing the number of primary places available to local families from 210 to 420. Additionally, the new playing field and Multi Use Games Area will be available to hire outside school hours for things like 5-a-side football, netball and basketball, providing a boost to everyone living in the surrounding area and further contributing to the school.
Leader of South Gloucestershire Council, Toby Savage, visited the new school this month to see first-hand how pupils and staff are settling into their new surroundings. He said: "Our number one priority is to improve school standards right across the district. That is why we have committed £78 million over four years to upgrading the fabric of our schools and that is why we are so pleased to have supported this £7 million project for Watermore Primary.
"A good learning and teaching environment is crucial to both pupils and staff and having seen the new facilities for myself I have no doubt that hundreds of local children will get the very best opportunity to start their schooling here for years to come.
"The thoughtful design to support with hearing impairments shows how supportive this school is of all its students and is a real boost to the specialist provision available in South Gloucestershire.
"The benefits of the school generating its own power are great for our environment, and locally the community will also benefit from access to the new playing field and Multi-Use Games Area. I look forward to coming back before the end of the summer term to see this ambitious project fully completed."
Janet Hoyle, head teacher at Watermore Primary School, said: "We are delighted to be in our new building. It is such a beautiful, calm environment. The flexibilities built into the design should enable to the school to evolve and develop over coming decades, to provide high quality opportunities in an ever-changing educational world.
"Children and staff love our new building, and we are delighted to have welcomed so many visitors to see it. We can't wait for Phase 2 to be completed so that we can use all of our fantastic outside spaces."