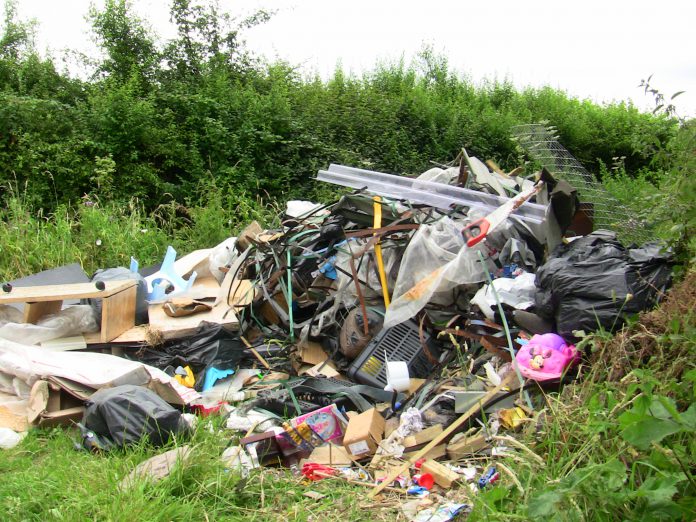 A Patchway man has been handed a 10 week Community Order and curfew, requiring an electronic tag to be worn, after being found guilty of committing waste related offences in South Gloucestershire.
Craig Walsh, 30, of Blakeney Road in Patchway, was prosecuted by our environmental protection team after two separate loads of fly tipped waste (including a lawn mower, rubber, plastics, metal, insulation material, soft furnishings, wood and packaging), were discovered in the exact same location, blocking a rural public footpath off the A403 in Pilning in June 2017.
Evidence relating to two addresses was also found amongst the fly tip and subsequent enquiries revealed that Walsh had agreed to collect both waste loads after being contacted via social media.
When interviewed, Walsh admitted that he did not have the necessary licence to carry waste or paperwork for moving the waste. Despite stating that he had received payment for the removal of both loads of waste and had personally collected the first load himself, he claimed that he had lent an unidentified male his vehicle and subcontracted the collection of the second load and disposal of both loads to this anonymous man. Walsh refused to name the man and admitted that he had liability for his waste.
In court, Walsh pleaded guilty to three charges; two for fly tipping and one for not having a Registered Waste Carriers Licence. He was handed a 10 week Community Order for all three charges, along with a curfew at his home address between 6pm and 6am for the same period and a requirement to wear an electronic tag, plus costs of £1,000 and a £85 victim surcharge (total £1,085).
The case was heard at Bristol Magistrates' Court on Wednesday 25 October.
South Gloucestershire Council's Executive Member for Communities and Tourism Cllr Heather Goddard said: "Fly tipping is an issue that affects our communities and local environment and this will not be tolerated in South Gloucestershire. On this occasion a lane had to be closed on the A403 to access the site and facilitate the clean-up, at considerable inconvenience to motorists and cost to the Council.
"This case shows how important it is to have the right documents if you are carrying waste. Waste crime puts the environment at risk and anyone found to be removing waste illegally will be prosecuted."
Residents and businesses are advised to only give their rubbish to an Environment Agency registered waste carrier.
Contractors should ensure that they hold a Registered Waste Carriers Licence and they comply with the Waste Transfer Note requirements.
You can carry out these simple steps to make sure your waste is disposed of legally:
Ask for a copy of the company's waste carrier registration certificate and ask where the waste is being taken. Legitimate firms will be happy to provide this information. Do not be tempted to use people offering cheap waste clearance on sites such as Facebook and Gumtree unless you have confirmed that they are registered with the Environment Agency
Check whether the waste carrier is registered by calling the Environment Agency on 08708 506506 or by checking on their website http://epr.environment-agency.gov.uk/ePRInternet/searchregisters.aspx
Ask for a registered trading address and contact telephone number for the trader and get a receipt.
Unwanted goods and household or garden waste can all be disposed of at no cost via the council's Sort It centres.
Residents who see illegal fly tipping are encouraged to report it by using our web form at www.southglos.gov.uk/flytipping or emailing streetcare@southglos.gov.uk