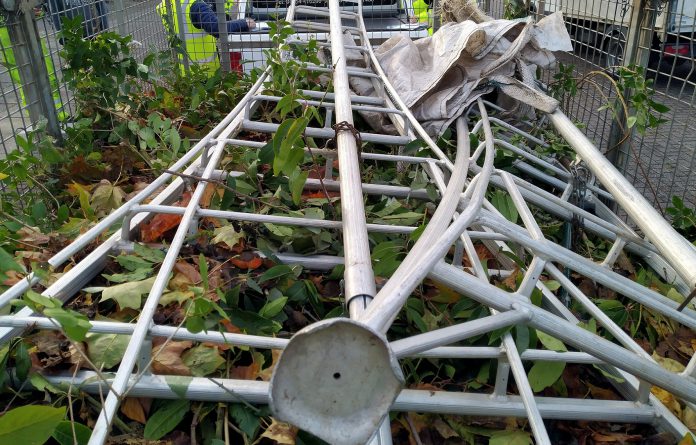 A man from Thornbury has been sentenced with a 12-month conditional discharge and ordered to pay a total of £276 (£250 fine and £26 victim surcharge) after South Gloucestershire Council prosecuted him for illegally transporting waste.
Duncan Young, 45, of Dovedale in Thornbury pleaded guilty to the offence transporting waste without a Waste Carriers Licence when he appeared at Bristol Magistrates Court on Monday 9 January.
The court heard that on 19 October 2022 South Gloucestershire Council's Environmental Enforcement officers were involved with a partnership operation led by Avon and Somerset Police at The Mall, Cribbs Causeway. The operation focused on road safety and mobile criminality and included checks for road worthiness of vehicles, anti-social use of vehicles and trade licensing compliance.
During the operation, police officers escorted a white pickup truck into the stop check area for inspection. The vehicle was liveried with D Young Garden Services and was towing a trailer that contained a large quantity of green waste.
Council officers spoke to Young, the driver of the vehicle, who was asked to complete a roadside questionnaire. The defendant confirmed the vehicle and business were his own. He also confirmed that he had been present when the green waste had been loaded on to the vehicle.
The questionnaire asked if the vehicle owner had a Waste Carriers Licence and Young confirmed that he didn't. He also confirmed that the waste had been collected as part of a job the business had completed the previous day and that he had received payment for it.
Young was advised that he had committed the offence of transporting controlled waste without a registered Waste Carriers Licence.
Councillor Rachael Hunt, cabinet member responsible for environmental enforcement at South Gloucestershire Council, said: "This offence was discovered during a police led multi-agency operation which has been conducted throughout the Avon and Somerset Constabulary area.
"I hope this serves as a warning to those who flout the law in our area and demonstrates that the council and our partners will continue to search out waste crime and we will not hesitate to take action when people are found to be acting illegally.
"Those who run waste collection businesses must make sure they have the correct licences for carrying waste. We encourage the public and businesses to always ask for their waste carrier's registration number and ask to see their waste transfer note to ensure their waste is being disposed of legally."
You can carry out these simple steps to make sure your waste is disposed of legally:
Ask for a copy of the company's waste carrier registration certificate and ask where the waste is being taken. Legitimate firms will be happy to provide this information
Do not be tempted to use people offering cheap waste clearance on sites such as Facebook and Gumtree unless you have confirmed that they are registered with the Environment Agency
Check whether the waste carrier is registered by calling the Environment Agency on 03708 506506 or by checking on their website https://environment.data.gov.uk/public-register/view/search-waste-carriers-brokers
Ask for a registered trading address and contact telephone number for the trader and get a receipt.