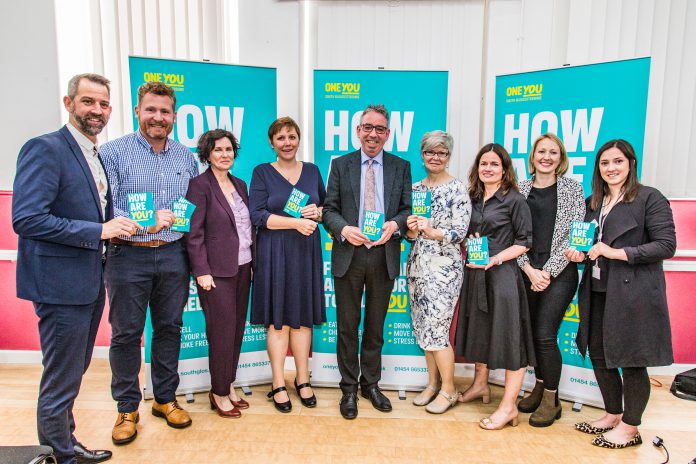 South Gloucestershire Council today (17 June) welcomed the Chief Executive of Public Health England, Duncan Selbie, to attend the launch of the new 'One You South Gloucestershire' health and wellbeing initiative.
Executive Members from the Council's Cabinet and senior officers met with Mr Selbie at the Park Centre in Kingswood, before being presented with details of the new integrated healthy lifestyles and wellbeing service 'One You South Gloucestershire' (OYSG).
The new service is funded by South Gloucestershire Council with an additional contribution from the Bristol, North Somerset and South Gloucestershire (BNSSG) Clinical Commissioning Group (CCG).
'One You South Gloucestershire' provides information, advice and support to reduce the five leading risk factors which contribute to premature death and reduced quality of life. The support and advice will help people address these key health concerns to become smoke free, drink less, move more, eat more healthily, manage their weight and stress less. 
South Gloucestershire Council's Cabinet Member for Adult and Public Health: Cllr Ben Stokes, said: "It was a pleasure to welcome Duncan Selbie to Kingswood today to discuss public health in our area and to launch the 'One You South Gloucestershire' initiative.
"This innovative approach will put people in control of their own health and wellbeing and will provide advice and information, as well as creating opportunities to make positive lifestyle changes through a programme of social prescribing."
Duncan Selbie, Chief Executive of Public Health England said: "One You South Gloucestershire is a great example of public health in action."
The (OYSG) service is managed through the council's public health & wellbeing division.
Further details of the One South Gloucestershire can be found at: oneyou.southglos.gov.uk