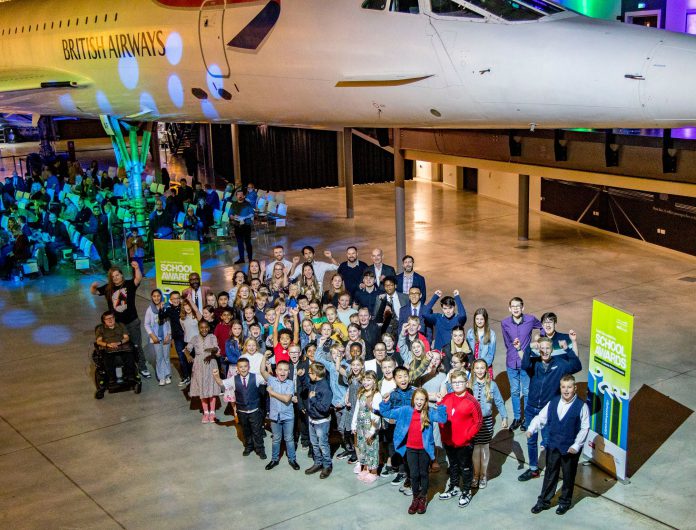 The South Gloucestershire annual School Awards took place at the Aerospace Bristol last month, celebrating students in local schools and academies who have shown 'resilience, recovery and innovation' over the last year.
All schools were invited to take part and more over 80 pupils and students from our primary, secondary and special schools attended, along with their parents, carers and teachers. During the evening they celebrated the huge variety of ways in which they have overcome their own challenges and done so in such a way that they are thriving and inspiring those around them.
The young people were congratulated by South Gloucestershire Council Leader Councillor Toby Savage, Councillor Erica Williams, cabinet member responsible for schools, and Councillor Franklin Owusu-Antwi, cabinet member responsible for public health and equality of opportunity.
Schools were asked to explain why they were nominating each child and their testimonials included:
"An empathetic and sensitive nature, always looking out for others despite her own personal experience."
"With parents as key workers, the pandemic was a scary time, both physically and mentally. They approached each day with positivity and continued to model all of our school values."
"An absolute resilient WARRIOR with can-do attitude – has never let any challenges she's faced get in the way of absolutely rocking it."
"The way he has settled, made new friends and been determined to develop his understanding of the English language has been fantastic – we are so proud of him!"
"Brings a great energy to the learning environment. An impressive thirst for knowledge and a great example to all in and outside the classroom."
Councillor Erica Williams, said: "We want every child in South Gloucestershire to have the best start in life. Our young people have faced real challenges over the past few years, which is why it is so important for us to recognise the ways in which our students and school communities are succeeding and thriving.
"The event was a fabulous night, with so many great young people being recognised for their resilience, their innovation and the fact that they've supported their other school friends and students throughout what have been difficult years through the pandemic – and they come out smiling."
She told the children: "The best start in life is about being equipped to become the best you can be. We want to thank you for your hard work, grit and determination – for the great ideas, optimism and perseverance you bring and from which we can all learn positive lessons.
"We are very proud of your schools too, for helping you thrive during a challenging time for everyone over the past few years.
"Despite the challenges, South Gloucestershire is making great strides with education, as demonstrated by its recent Ofsted reports. Over the last five years, our local schools have moved from 35 per cent Good or Outstanding at Secondary and Post 16, to 71 per cent. And 83 per cent of all schools in South Gloucestershire (including Primary) are rated as Good or Outstanding.
"Supporting and investing in our schools and giving all children and young people in South Gloucestershire the best start in life is our number one priority as a council. We are investing in building new schools and supporting our existing schools, with a focus on very low carbon impact on the environment.
"This is all part of the council's continued investment in schools with £82 million in capital investment since 2019. Last summer more than £2.2 million was spent on improvements and maintenance."