SGSAB Annual Report Published Today
8 September 2022
The Annual Report for 2021-22 has been published today
You can read it here
---
Bitesize Workshops – Self Neglect
12 August 2022
*BRAND NEW* workshops – 45 minutes to be updated about self neglect and the tools in South Gloucestershire to support your practice
Free to attend and bookings are open here
---
August Newsletter Published Today
12 August 2022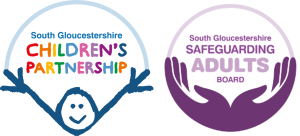 Read the newsletter here
---
Protect Yourself from Fraud
15 July 2022
Fraud and cybercrime are the most common criminal offences in the UK. As the threat continues to grow and evolve, it's important to remember one thing – most of it can be prevented.
By following just a few steps, you can make it harder for fraudsters to steal your money or personal information when online, on the phone or at your front door.
Download the police postcard today
A&S PCC Fraud A5 Postcard_FINAL version
---
Stop Adult Abuse Week – Save the Date
6 July 2022
This year Stop Adult Abuse Week takes place from Monday 21st – Friday 25th November – there will be FREE workshops every day at lunchtime.
SAVE THE DATE in your calendar now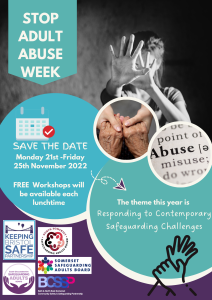 ---
*UPDATED* Guidance Documents for everyone working with Adults
1 July 2022
The Working with Risk Guidance and the Self Neglect Guidance have both been updated and have been agreed by the Safeguarding Adults Board.
Please replace any other versions of these documents with these new ones
Working with Risk Guidance 2022
---
June Safeguarding Newsletter – Published today
1 June 2022
You can read the June Safeguarding Newsletter – from the Safeguarding Adults Board and the Children's Partnership by clicking the link below
Safeguarding Update Edition June 2022
---
Free On-Line Training: NON-FATAL STRANGULATION AND SUFFOCATION: INTRODUCTION TO THE NEW OFFENCE FOR ENGLAND AND WALES
1 June 2022
Strangulation and suffocation are sadly widespread (estimated at 20,000 cases per year in the UK). Being strangled not only leads to potential serious medical consequences that should be identified early on, it also raises by seven-fold the risk of becoming a future domestic homicide victim.  It is also widely experienced in rape. A 2021 study from Saint Mary's SARC Manchester showed that 1 in 5 adults presenting for a forensic medical examination following a report of rape by a partner or ex-partner gave a history of strangulation as part of that assault.
A new specific offence of non-fatal strangulation and suffocation will come into force in England and Wales in June 22 so this training will help staff prepare for managing these assaults.
Many people – even those working within the NHS and criminal justice system are unaware of some of the signs and symptoms of strangulation and suffocation.  Historically many have minimised the seriousness of strangulation and have not realised the medical dangers of strangulation particularly the many assaults that leave no marks.   For example, strangulation can lead to brain injury, stroke and miscarriage. Yet strangling someone needs less pressure than opening a can of Coke.
Those attending the event will learn about:
Identifying the signs and symptoms of non-fatal strangulation and suffocation cases
Investigating and documenting cases for prosecution
The use of experts in court and
Enhancing victim safety through trauma-informed advocacy services
Strangulation New Offence Training On-line Flyer 28 29 June
This course will be especially useful for anyone who may come across strangulation and suffocation in their work and in particular staff from:
NHS frontline including Paramedics, GP Practices ENT, ED; Police; Domestic Abuse and Sexual Assault Services; Judges and Magistrates, Prosecutors; Social Workers; Public Health; Probation.
It is relevant for all front-line NHS staff as we know from the USA that it is often for example GP practice nurses or A&E staff who pick up that someone has been strangled when they present with eye, throat, ear or other problems.  This is particularly true for those victims who are wary of reporting to the criminal justice system.
---
May Edition of the Safeguarding Newsletter
24 May 2022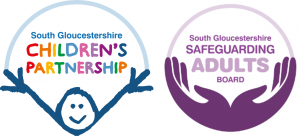 You can read the new edition of the newsletter here
---
April Edition of Safeguarding Newsletter Published Today
8 April 2022
The April Edition of the Joint Newsletter for the Safeguarding Adults Board and Children's Partnership is now available
Safeguarding Update Edition April 2022
---
Older posts