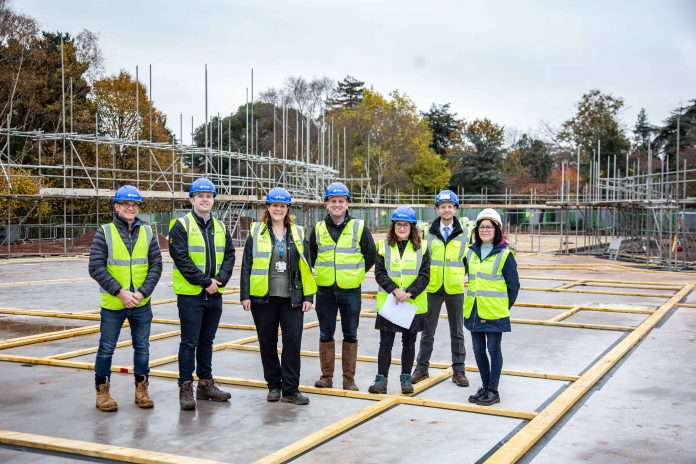 Work is underway on the brand-new Council-led school building for Frenchay CofE Primary School, ahead of the planned opening in September 2022.
The brand-new home for the school is being built on the former Frenchay Hospital site on Alexander Road and has been designed to the low carbon Passivhaus standards, which will substantially reduce energy consumption. This will lower the school's running costs whilst also supporting the objectives of the Council's Climate Emergency declaration made in 2019.
The new building has been designed in collaboration with the school to keep the unique character and ethos of the current primary school. The classrooms are provided on two floors with outdoor learning areas for first floor classrooms looking out over the nearby woodland. The existing school provides places for up to 140 pupils on its Churchside site, and once relocated the school will be able over time, to welcome more children with capacity for up to 420 primary-age pupils.
The new low-carbon building is being constructed by developer BAM. Work on the new site is currently on track for the target of classes starting in the new building in September 2022.
Improving school standards remains South Gloucestershire Council's number one priority with the Cabinet continuing with its four-year record £78 million investment into building new schools as well as improving and maintaining existing buildings across the district.
This is the largest ever investment into schools made by the Council and reflects that priority to improving outcomes – not just in terms of results, but in terms of the learning experience and environment, for both pupils and staff.
Cabinet Member for Education, Learning and Employment Cllr Erica Williams, Cabinet Member for Corporate Resources Cllr Ben Burton and local members joined headteacher Katherine Marks and school governors to visit the site and view the new school's progress.
Cllr Williams said: "It's excellent to see the construction of the new school building for Frenchay Primary School well underway, we have been planning this project for some time and I am delighted to see the building take shape. Our number one priority is to improve school standards in South Gloucestershire and this significant investment will provide local children with an improved learning environment in which they can achieve their full potential."
Cllr Burton said: "It's great to see our plans for a bigger and more environmentally-conscious primary school in Frenchay come to fruition. The work on site is progressing very quickly, with the developer already making significant ground in a short space of time. The new building has been designed to Passivhaus standards, which will not only make the school one of the most energy efficient in South Gloucestershire, but also supports our Climate Emergency goals.
"This is a multimillion-pound investment demonstrating our commitment to deliver important infrastructure for local families in the Frenchay area."
Katherine Marks, Headteacher at Frenchay CofE Primary School, said: "Every member of our community is very excited about the move to the new school building. It will offer us so much space to extend our curriculum and learning opportunities. We have many plans on how we can further the experiences for our children on this new site, with access to the conservation area next door, an orchard area of trees and a spiritual garden outside the atrium of our library as some examples. The children will have the chance to learn about the Passivhaus standard as part of their global topics each year. This will provide not only firsthand experiences but also unique opportunities. We can't wait!"