Coronavirus

(COVID-19): Useful information

Social distancing and self-isolating can be a daunting time for all members of the family and it is important that we protect our mental health as well as our physical health. The Government has released guidance around the mental health and wellbeing aspect of coronavirus as well as stay at home guidance.

Parents and carers – take a look at our One You South Gloucestershire website for tips around your mental wellbeing, being active at home, eating well and much more.

Here's Off The record's Bronwen's words of guidance about being resilient and mindful throughout this "totally weird" coronavirus disruption.
Services  
Things to Do While Self Isolating
(based on the 5 Ways to Wellbeing)
1. Connect – While you are social distancing or self-isolating it is important that you stay connected to your friends and family. We are lucky that social media and our phones allow us to keep in contact with the people we care about. There are different ways you can communicate online, for example there are many games you can play against your friends
2. Be active – You may not be able to play group games such as football. However, that does not mean you cannot exercise. You can still go for a walk, run or cycle once a day on your own or with people you live with. There are lots of free apps, YouTube videos and online resources to help you exercise at home. Sport England has produced this guide: How to stay active while you are at home.
3. Take Notice – Remember the things that make you HAPPY! Some ways of doing that could be:
Make a thankful jar – even in these difficult times, there are plenty of things to be grateful for
Create a time capsule of things that bring you joy
Plant some seeds and watch them grow
Write a mindfulness journal or spend some time completing mindfulness art
Visit Calm and take a deep breath
4. Keep Learning – Now is the time to develop a new skill and learn more about the world in which we live. Maybe you have an instrument that you have never mastered or a desire to learn how to crochet, origami, a new language or to cook – now is the time! There are plenty of free tutorials online to help you learn new skills.
You may not be able to visit a museum but you can take a virtual tour of one.
You could also take a virtual field trip to one of the following places:
5. Give – You may not be able to visit elderly or vulnerable relatives; this does not mean you can't show them you care. You could write them a good old-fashioned letter and send a little care package to open with some photos and treats to make them smile. You could offer to collect food for them or items that they need. You can also help out at home with the cleaning, cooking and washing!  You could help younger brothers or sisters to have fun, even if only for five minutes!
Resources
You can find information and advice about looking after your mental health during the Coronavirus pandemic:
Downloadable resources from OTR
Childline activities and tools
Keeping mentally healthy during a time of such confusion and uncertainty can be hard. Use our 30 day challenge for some easy and fun ways to maintain your mental health through this time. You can do these challenges individually or as a family. We would love to hear how you get on with them so please contact us on: mentalhealth@southglos.gov.uk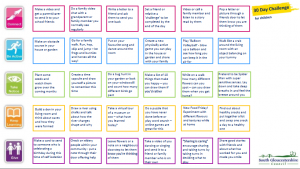 Information for Parents
Anna Freud has out together a useful video for parents around anxiety in children under these circumstances.
Place2Be guide containing helpful information to answer questions from children.
Jigsaw is a programme used with schools around PSHE; resources available include 'The Big Sing'.