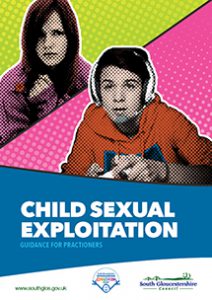 Child sexual exploitation is a form of sexual abuse where children are sexually exploited for money, power or status. It can involve violent, humiliating and degrading sexual assaults. In some cases, young people are persuaded or forced into exchanging sexual activity for money, drugs, gifts, affection or status. Consent cannot be given, even where a child may believe they are voluntarily engaging in sexual activity with the person who is exploiting them. Child sexual exploitation doesn't always involve physical contact and can happen online. A significant number of children who are victims of sexual exploitation go missing from home, care and education at some point.
Youth Justice Legal Centre-Guide-CCE
Spotting the signs of CSE
A new video which is aimed at helping health and social care professionals, such as school nurses and community pharmacists, to spot possible signs of child sexual exploitation (CSE) has recently been launched by Health Education England in association with the Department of Health and NHS England.  The video presents a series of scenarios involving a young person potentially at risk of exploitation and uses the voice of a real-life survivor who talks about her own personal experiences of a CSE.
Online Grooming
A film produced by Leicestershire Police to warn children and parents of the dangers of online grooming
BLAST Project
A new free resource is available from the BLAST project for LSCBs aimed at raising awareness of CSE and grooming in primary school aged children.